BEIJING -- A Chinese spokeswoman said on Friday that Japanese Prime Minister Shinzo Abe was "hypocritical" and "unscrupulous" after his visit to the Yasukuni shrine.
"What we can see is hypocrisy, unscrupulousness, and self-contradiction through his dishonest excuses yesterday as well as all his words and deeds over the past year," Foreign Ministry spokeswoman Hua Chunying said at a daily news briefing in response to Abe's remarks after his visit to the shrine, where 14 World War II class-A war criminals are honored.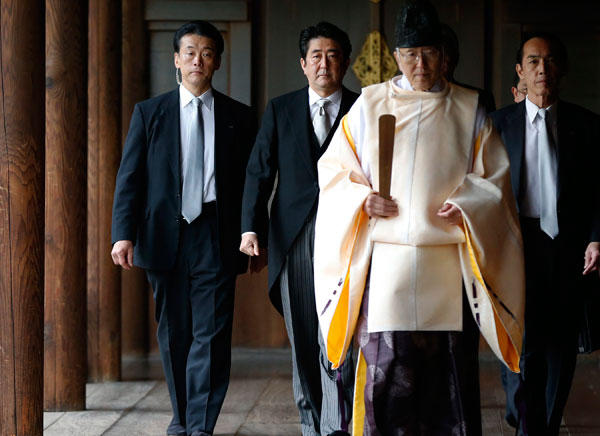 Japan's Prime Minister Shinzo Abe (2nd L) is led by a Shinto priest as he visits Yasukuni Shrine in Tokyo December 26, 2013. [Photo/Agencies]
Abe alleged that criticism of visits to Yasukuni as acts of worshipping war criminals is based on misunderstanding.
"It is not my intention to hurt the feelings of the Chinese and Korean people," Abe said.
"The Japanese leader's unconvincing allegation is not worth rebutting at all," said the Chinese spokeswoman.
"What has he actually done while he talks about morality, peace and dialogue?" Hua said, listing Abe's attempts to whitewash Japan's history of aggression, build up Japan's military power, deny the outcome of the World War II and challenge the post-war international order.
The international community has every reason to be highly vigilant and deeply concerned over the road Japan will take in the future, said the spokeswoman.
"How can such a person, who is unwilling and doesn't dare to face up to the history of his own country, win the trust of the international community? How can he make people believe he will play a role in promoting peace and stability in the region and the world at large?" Hua said.
She said it is up to the Japanese leader whether he faces up to and deeply repents for its history of aggression, and truly "takes history as a mirror" to develop a "future-oriented" relationship with Japan's Asian neighbors, or whether he continues the wrongdoings while going too far on the wrong track.
"A just cause enjoys abundant support, while an unjust one finds little," she said.
Hua urged Japanese leaders to bear in mind the national and the people's interests, as well as regional peace and development, and to showcase responsibility in their words and deeds.
China will fight to the finish if Japan insists on challenging international justice, human conscience and the baseline of the relationship between Japan and neighboring countries, she said.
Abe's visit to the Yasukuni shrine has triggered extensive condemnation by the international community.
On Thursday, Chinese Foreign Minister Wang Yi summoned Japanese Ambassador to China Kitera Masato to lodge solemn representations, and Foreign Ministry spokesman Qin Gang also made a statement to express China's stance following Abe's visit.
The Republic of Korea said in a statement that it "cannot help but deplore and feel anger over" Abe's shrine visit, which took place despite continued concerns and warnings by neighboring countries and the international community.
The United States also expressed disappointment "that Japan's leadership has taken an action that will exacerbate tensions with Japan's neighbors."
Russia on Thursday expressed regret over Abe's visit, saying in a statement that some forces in Japan have a different evaluation of the outcome of World War II from the understanding shared by the world.