TOKYO - Japanese Prime Minister Shinzo Abe delivered his first policy speech, which mainly focused on economic recovery, on Monday in the first regular session of the Diet since he returned to power last December.
Abe said that the priority of his government is to revitalize Japan's stagnant economy and the government will use bold monetary policy, flexible financial policy and private sector stimulus as three pillars to achieve the goal.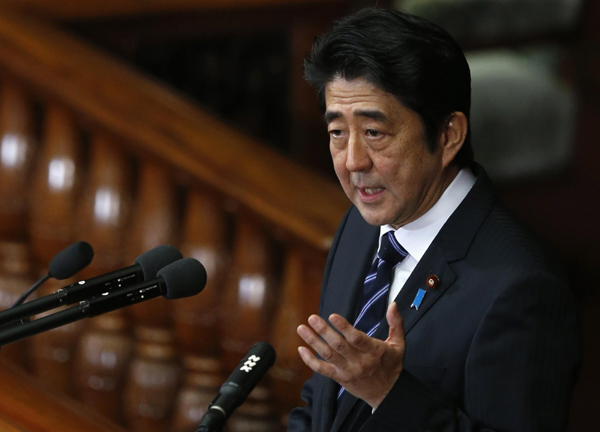 Japan's Prime Minister Shinzo Abe makes a policy speech during the start of ordinary session at the lower house of parliament in Tokyo Jan 28, 2013. [Photo/Agencies]
As to monetary policy, Abe urged the Bank of Japan (BOJ) to achieve the 2 percent inflation target set in a joint statement made between the government and the BOJ.
The prime minister also said the government and the central bank will "closely cooperate" to achieve the target so as to curb the country's prolonged deflation.
Abe said the security situation of his country is getting severer and his government will firmly protect the safety of the Japanese people and territories.
He also said his government will beef up Japan's maritime surveillance capability and enhance the country's emergency response capacity so as to better deal with incidents such as a deadly hostage crisis in Algeria.
As to Japan's diplomacy, Abe said the core of Japan's foreign policy is to enhance Japan-US alliance and he said a meeting with US President Barack Obama will be held in the United States in the third week of February.
Abe also said Japan will pursue "value diplomacy" which is based on the values of freedom, democracy and human rights, adding the diplomacy will be carried out through an overall perspective rather than focusing on certain bilateral relations.
The prime minister also said Japan will facilitate economic and cultural exchanges in the Asian-Pacific region, especially with southeastern Asian countries.
The first regular session of the Diet was convened on Monday and will last 150 days.