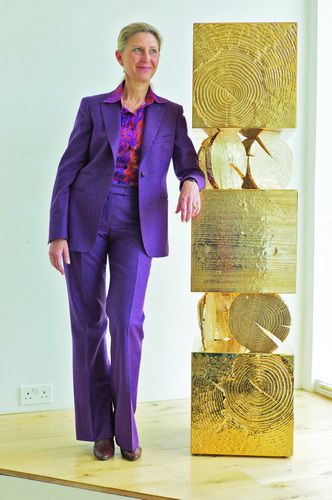 Liliane Fawcett owns the gallery Themes & Variations and is an observer of contemporary Chinese design. [Photos Provided to China Daily]
Inspired by a visit to Beijing's 798 Art Zone, a London gallery owner is taking contemporary Chinese design, stimulated by the country's rapid changes, to a European audience. Cecily Liu reports.
Liliane Fawcett says her gallery Themes & Variations has never attracted as much media coverage as in the past month, when it hosted its first exhibition of Chinese contemporary design.
"We've never had this amount of press for any other exhibition, so maybe there is great interest for Chinese design in Europe. Most of the visitors coming to our gallery did not know what to expect of Chinese design, but were amazed by the standard of work."
Fawcett, 55, a French countess, set up Themes & Variations in London in 1984, selling post-war and contemporary design.
Over the years it has promoted work from up-and-coming designers such as the British-Tunisian Tom Dixon and the Israeli Ron Arad, as well as decorative arts and furniture from the 1960s and 1970s.
The 55 items that make up the Chinese Design Today exhibition are the work of 16 artists from Beijing, Shanghai and Jingdezhen, a city in Jiangxi province famous for its porcelain.
Fawcett says one popular medium used by the artists is furniture, which holds true for both older and younger generations of Chinese designers.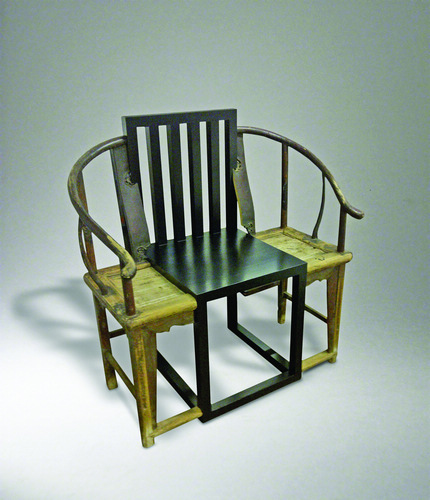 Shao Fan's King Chair.
An example is the King Chairs by Shao Fan of Beijing, born in 1964. With two versions, in black and red, they are antique Ming Dynasty style chairs made from wood with caned seats, divided by a central lacquer linear chair.
The starkly different materials so coherently combined create a subtle reminder of China's rapid transformation in recent decades.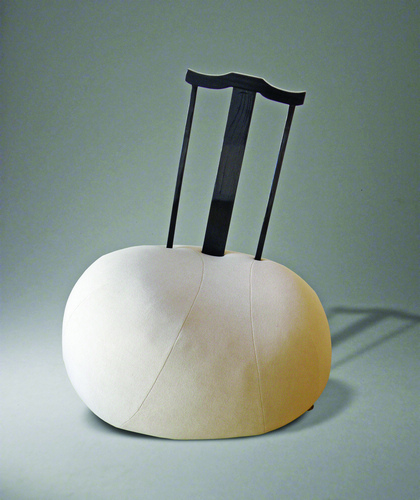 Xiao Tianyu's Harmony-Light Chair.
Similar to Shao's chairs are the Harmony-Light Chairs by Xiao Tianyu, a designer born in 1987. With straight-edged elm wood casually built into big cotton seat covers, the design embodies contrasts.
Fawcett says the theme of tradition versus modernity is popular with Chinese designers because China is a society in transition.
"China has a long history, so designers can't look toward the future without looking at the past."
Also representative of this theme are ceramic sculptures made by Li Lihong, a professor of Chinese porcelain at Fudan University in Shanghai.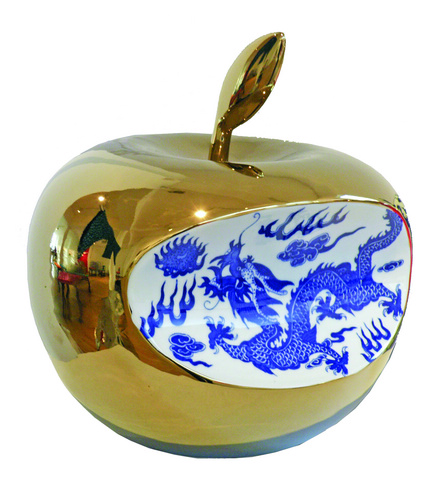 Li Lihong's Apple, China.
His Apple, China features a golden apple with a bite similar to the icon of the American electronics brand Apple. The bite is filled with blue floral porcelain, to reflect on China's consumerism.
Another theme Fawcett observes is upcycling, the re-use of old material for new purposes. One example is Gu Yeli's antique Chinese wooden benches dressed by colorful pompoms.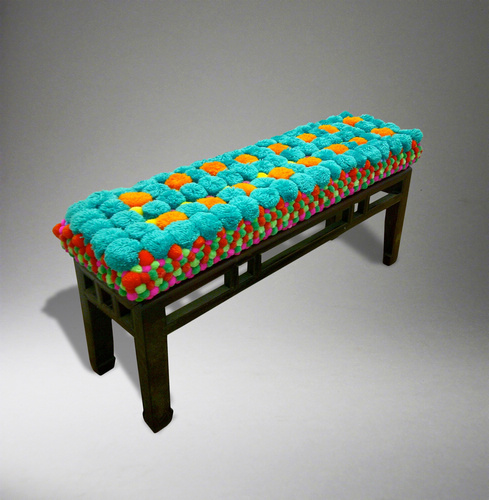 Gu Yeli's antique Chinese wooden bench outfitted with colorful pompoms.
Gu collected broken or abandoned chairs and benches dumped in Shanghai's maze of alleys, and reworked these commonplace items into striking and distinctive furniture.
Upcycling is also a theme in the hand-stitched wallflowers created by Yang Fan, which are large rectangular cloths hung on a wall, with scrap cloth and pompoms stitched into arrangements of flowers and smiley faces.
On a visit to southern China's clothes-manufacturing factories, Yang was shocked to see thousands of pieces of cloth discarded. She methodically collected what she could and stitched the cast-offs into brightly colored panels.
Yet a third theme Fawcett notices is modernity, led by the double-skinned stainless steel panels Zhang Zhoujie makes from parametric design - a digital scripting method that creates designs using computer models.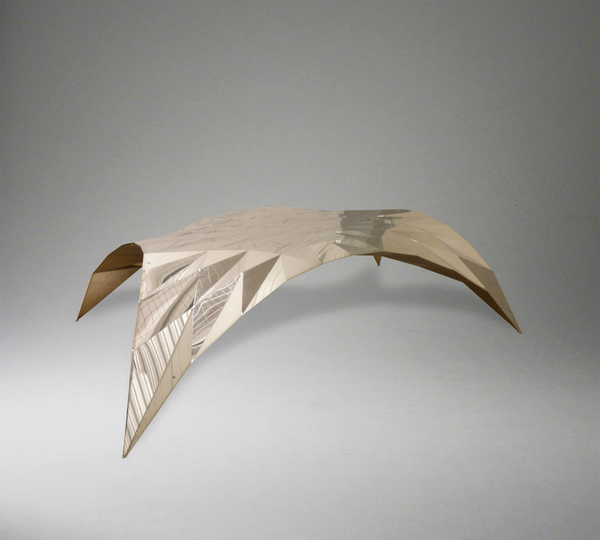 A stainless steel coffee table designed by Zhang Zhoujie.
But Zhang also cites another guide in his work - the Taoist concept of "wu wei", which means uncontrived action or natural non-intervention. Hence his work is true to the materials he uses, devoid of embellishment or disguise.
Works in the exhibition are for sale, most priced between 9,000 pounds ($14,500) and 80,000 pounds. Fawcett says a significant number of items she has sold and she expects 70 percent to sell by the end of the one-month event.
The inspiration for the show was a trip Fawcett made to Beijing two years ago. Upon visiting the 798 Art Zone, she was surprised to find a range of innovative items that altered her perception of Chinese design.
"I think China's fine art market experienced an explosion in the past decades, and consequently Chinese design was left to the side, but it is now emerging," Fawcett says.
With a view to unveiling Chinese design to a Western audience, Fawcett went with a consultant to Beijing, Shanghai and Jingdezhen to select pieces for her exhibition.
"We went from one designer to another designer. We eliminated firstly all the designs similar to a European style, and then it was just a matter of following our taste."