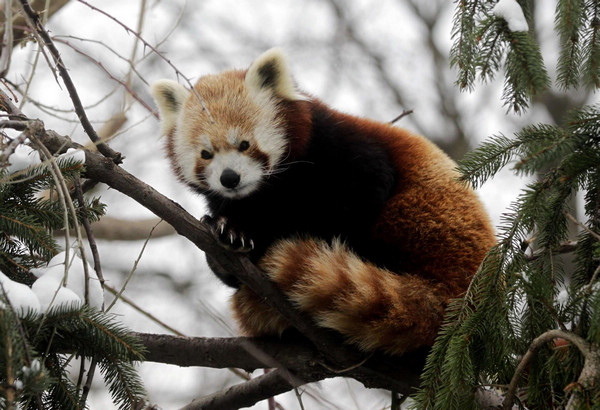 A Red Panda (Ailurus fulgens) sits in a tree at Schoenbrunn Zoo in Vienna, Jan 16, 2013. [Photo/Agencies]
WELLINGTON - Zookeepers in New Zealand are celebrating a birth among one of Asia's most at-risk animals as part of an international breeding program.
The rare Nepalese red panda, which is still to be sexed, weighed just 105 grams when it was born on December 24 at Auckland Zoo, but has since more than doubled its weight to about 240 grams.
The cub was the first offspring of 3-year-old female Bo, who arrived at Auckland Zoo in mid-2012, and 12-year-old Sagar, and was the first red panda to be born at the zoo since 2002, said a statement from the zoo Monday.
"This birth is a fantastic result, especially as Bo was only introduced to Sagar last August, and given female red pandas come into season just twice a year and a male has only a one to two-day window to mate a female," carnivore team leader Bruce Murdock said in the statement.
"We couldn't ask for a better mum in Bo. She's doing an exceptional job, staying in the nest box for long periods and feeding her cub up to six times a day, and being very attentive."
Red pandas developed slowly and were dependent for at least three months, so it could be another eight to 10 weeks before visitors could see the cub venture out of its nest box and around the enclosure, he said.
"Around late February will be a safe time for us to do a full vet check on the cub. We're not absolutely sure, but bets are on that we have a female," Murdock said.
As part of the international breeding program for the threatened species, Auckland Zoo sent female red panda Khosuva to India's Darjeeling Zoo in 2010, where she was paired up with a breeding male as part of Project Red Panda. The plan is for Khosuva's offspring to be released into the wild in Nepal. In return, Sagar arrived at Auckland Zoo in 2010 from Darjeeling Zoo to breed.
Besides Bo, Sagar and the newborn, Auckland Zoo has two other red pandas: 16-year-old Maya and her 12-year-old daughter Amber.
In February last year, New Zealand's Hamilton Zoo announced that it had successfully bred its first red panda  the survivor of twins  after receiving authorization from the international red panda breeding program.
The program restricts the numbers of red pandas  believed to number fewer than 10,000 in the world and decreasing  bred each year in order to properly manage their captive environments and to ensure variations in the gene pool by allowing breeding age animals to be exchanged among zoos.
Like the giant panda, the red panda almost exclusively eats bamboo shoots, but it is spread over a larger area around the Himalayas, with the western subspecies living mostly in northern India, Nepal and Bhutan and the Styan's red panda mainly in China and northern Myanmar.
Classified as "vulnerable" by the International Union for Conservation of Nature, the red panda is threatened in the wild by deforestation and habitat fragmentation, as well as poaching for their fur.
Their scientific name is Ailurus fulgens, meaning "fire-colored cat" although the species are not cats. They are a striking reddish-brown color with white facial markings and a striped tail.