China is taking a more active role in international affairs, according to China observers in Europe.
They also said China needs a smarter and more considerate approach to rebuilding trust with neighboring countries, as certain challenges and difficulties will continue in 2013.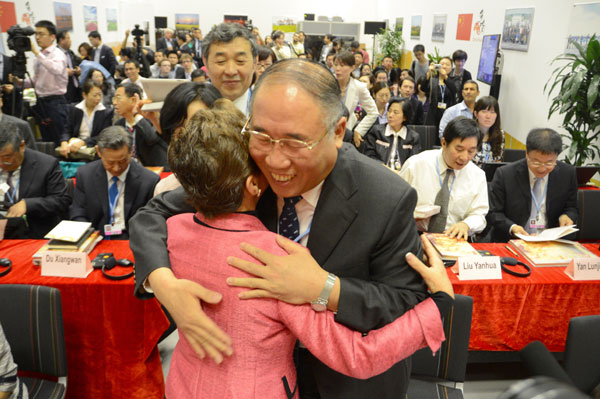 Chief climate negotiator Xie Zhenhua hugs Christiana Figueres, executive secretary of the Secretariat of the United Nations Framework Convention on Climate Change, at the UN Climate Change Conference in Doha, Qatar, on Dec 3. LI MUZI / XINHUA
"It is a good thing that China is taking a more active role, and it should seek to integrate itself into the world community," Rana Mitter, professor of the history and politics of modern China at Oxford University, told China Daily.
This year, China has been more actively involved in international affairs, especially in working toward solutions for global problems such as the Syrian issue, climate change and terrorism. It has also made greater contribution to sustainable development, and to global peace and prosperity.
Peter Ho, chair professor of Chinese economy and development and co-director of the Modern East Asia Research Center at Leiden University in the Netherlands, said: "It's a remarkable move, as that has always been the pillar of China's foreign diplomacy. However, it also fits more with the role of a responsible global player that China wants, will and needs to play on the world stage."
However, China's diplomatic efforts have faced many difficulties this year, including tensions with neighboring countries in the East China Sea and South China Sea over sovereignty issues.
Mitter said: "China will need to adjust to the fact that it is a big power in East Asia, and it must act to reassure its neighbors that it understands their concerns as well as its own.
"Moving to more multilateral diplomacy in the region is an important aim, and China can play a full part in that change if it chooses to."