Shinzo Abe on Wednesday was sworn in as Japan's seventh prime minister in the past seven years amid the country's economic downturn and diplomatic deadlocks with neighbors.
Observers said Abe will seek pragmatic gestures to temper heated territorial disputes with neighboring countries, and enhanced US-Japan alliance will contribute to Tokyo's efforts to regain power in the East Asia region.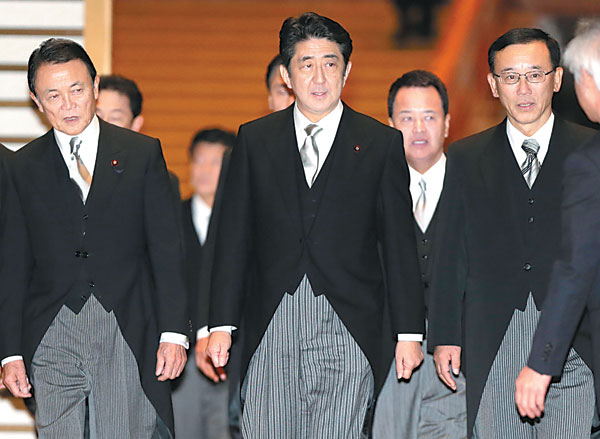 Japan's new Prime Minister Shinzo Abe (center), Finance and Deputy Prime Minister Taro Aso (left) and Justice Minister Sadakazu Tanigaki (right) walk with other Cabinet members after attending an attestation ceremony for Abe's cabinet in Tokyo on Wednesday. Itsuo Inouye / Associated Press
The new Cabinet is a powerful one, which Abe calls a "crises breaker", and is composed of many veteran politicians. It features former prime minister Taro Aso, who takes the posts of vice-prime minister, financial minister and financial services minister.
Heading the foreign ministry is Fumio Kishida, a veteran on Okinawa issues. The new defense minister is Itsunori Onodera, who was in Abe's previous administration in 2006-07.
To achieve his top job of an "economic rebirth", Abe has ordered his new Cabinet to discuss a budget amendment on Wednesday night, Japan's Jiji Press News Agency said.
Abe's cabinet will put reviving the economy at the top of its agenda and won't further fuel the heated territorial disputes, Seoul-based Chosun Ilbo newspaper estimated.
As a gesture to improve Tokyo's soured ties with Seoul, Abe is considering attending the inauguration ceremony of South Korean President-elect Park Geun-hye in February, Japan's Asahi Television reported on Wednesday.
Tensions between the two countries rose in August after South Korean President Lee Myung-bak visited a disputed island, which Seoul calls Dokdo and Tokyo calls Takeshima.
Gao Hong, deputy director of the Institute of Japanese Studies at the Chinese Academy of Social Sciences, said Abe may seek a more pragmatic and milder role for regional ties in contrast to his widely known hawkish profile.
"Abe will display more flexibility in tweaking relevant policies and ensure a balanced posture in future moves," Gao said.
The ousted Democratic Party of Japan has witnessed a sharp diplomatic deadlock sparked by a series of territorial disputes with its neighbors this year.
Special coverage: