TRIPOLI - Libyans marked Monday the 61st anniversary of the North African country's Independence Day.
A national ceremony including a military performance was held in the Martyears Square in the capital city of Tripoli, with the moored ships in Tripoli port ringing sirens to mark this special anniversary.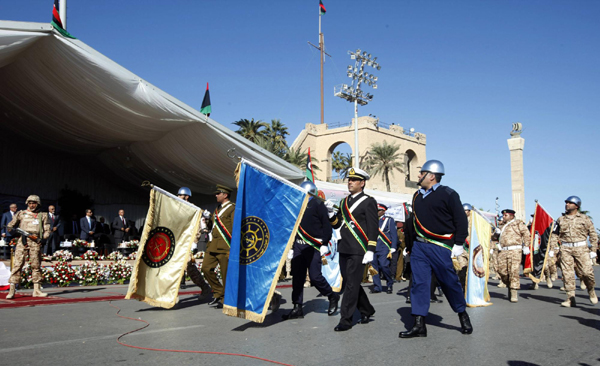 Army flags are carried during a military parade during Independence Day celebrations in Tripoli Dec 24, 2012. [Photo/Agencies]
In a keynote speech during the ceremony, Libyan Prime Minister Ali Zaidan said Libya needs its people's hard work and "commitment to attend work every day with faithful spirit to build and develop the nation."
Zaidan urged the Libyan people to cooperate with the police so that the security forces could enhance security and stability in the country.
The ceremony was attended by government officials, members of the General National Congress (GNC), a host of commanders of Libyan National Army and police officers, along with foreign envoys and representatives of non-governmental organizations.
Libya resumed celebration of the independence day last year. The occasion had been scrapped during the four-decade rule of former leader Muammar Gaddafi.