ROME - Two days after stepping down, Mario Monti announced on Sunday he would consider seeking a second term as Italian prime minister if approached by allies committed to backing his austere brand of reforms.
The former European commissioner, appointed to lead an unelected government of experts to save Italy from financial crisis a year ago, resigned on Friday but has faced growing calls to seek a second term at a parliamentary election on Feb 24-25.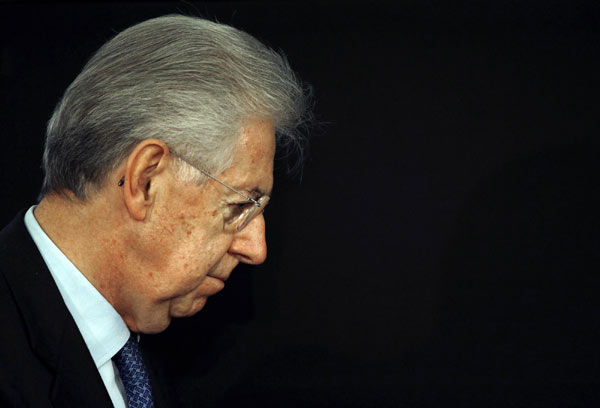 Italian caretaker Prime Minister Mario Monti arrives for an end of the year news conference in Rome Dec 23, 2012. Monti said on Sunday that he would be ready to offer his leadership to political forces that adopt his agenda of reforms the country needs. [Photo/Agencies]
At stake is the leadership of the world's eighth largest economy, where recession and public debt of more than 2 trillion ($2.63 billion) have aggravated investor concerns about growth and stability in the euro zone.  
"If a credible political force asked me to be candidate as prime minister for them, I would consider it," said Monti, who has imposed repeated tax hikes and spending cuts to shore up Italy's strained public finances.
He had kept his position a closely guarded secret for weeks, and in recent days had appeared to be have strong doubts about whether to continue in front-line politics. He made clear that if he ran, it would probably be at the head of a centrist grouping.
Monti held back from committing himself fully to the race, and said he was aware any decision to stay in politics carried "many risks and a high probability of failure".
"I am not in any party. I am ready to give my appreciation and encouragement, to be leader and to take on any responsibility I may be given by parliament," he said.
As a senator for life, Monti has no need to run for election to parliament but he said he would publish a detailed agenda of recommendations for a future government and would potentially be willing to lead a party that adopted it as its own.
Still serving as caretaker leader, Monti is widely respected for restoring Italy's reputation after the scandal-plagued era of his predecessor Silvio Berlusconi.
The former economics professor is backed strongly by Italy's business establishment and by EU allies including German Chancellor Angela Merkel. He has been urged to stay by centrist groups ranging from disaffected former Berlusconi allies to the small UDC party, which is close to the Catholic church.
But there is little sign of enthusiasm for a second term among voters weary of his austerity policies. A survey last week showed 61 percent did not think he should stand. It said a potential centrist alliance under his leadership was likely to gain around 15 percent support.