NEW DELHI - The Indian government moved on Sunday to stamp out protests that have swelled in New Delhi since the gang-rape of a young woman, banning gatherings of more than five people, but still thousands poured into the heart of the capital to vent their anger.
Police used tear gas and batons to hold crowds back from marching on the president's palace, just as they did the day before. About 30 to 35 people, including a few policemen, were being treated at a nearby hospital for injuries, two doctors said.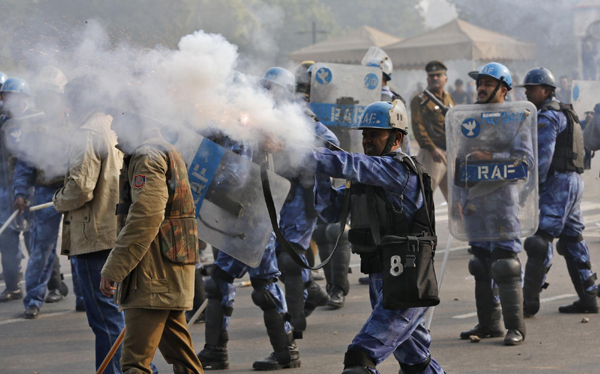 India's Rapid Action Force (RAF) personnel fire a teargas to disperse demonstrators during a protest in front of India Gate in New Delhi Dec 23, 2012. [Photo/Agencies]
The 23-year-old victim of the Dec 16 attack, who was beaten, raped for almost an hour and thrown out of a moving bus in New Delhi, was still in a critical condition on respiratory support but responding to treatment, doctors said.
Six men have been arrested for the assault.
New Delhi has the highest number of sex crimes among India's major cities, with a rape reported on average every 18 hours, according to police figures.
Most sexual assaults go unreported and unremarked, but the brutality of last week's attack triggered the biggest protests in the capital since mid-2011 demonstrations against corruption that rocked the government of Prime Minister Manmohan Singh.
The protesters, predominantly college students but also housewives and even children, are demanding more steps from the authorities to ensure safety for women - particularly better policing - and some want the death penalty for the accused.
Several metro stations were closed and many roads into the administrative centre of the city were barricaded on Sunday to prevent a build-up of protesters.
However, by late afternoon the crowd around the India Gate monument - normally a festive place on a Sunday - had swollen to several thousand.
Scuffles broke out near government buildings, where youths shouted "Down with Delhi police!" and threw bottles at the forces holding them back. Angry protesters later overturned a vehicle and seized police vans.
GANDHI GETS FLAK
Since last week's rape, the authorities have promised better police patrolling to ensure safety for women returning from work and entertainment districts, the installation of GPS on public transport vehicles, more buses at night, and fast-track courts for swift verdicts on cases of rape and sexual assault.
However, that has not been enough to placate protesters in New Delhi and other cities across the country, where the past week began with peaceful candle-light vigils and ended with a spasm of violence in the capital.
Bowing to public pressure, Sonia Gandhi, chief of the ruling Congress party, emerged from her residence after midnight to talk to protesters. She went out again on Sunday with her son, Rahul Gandhi, who is seen as a future prime minister.
"She assured us of justice," said one of the students who met the Gandhis.
Some others, though, shouted "Down with Sonia Gandhi!" and accused politicians of indifference to the plight of ordinary citizens.
"It's time she (Sonia Gandhi) takes the bull by the horns and make this country safe for women. Be it better policing or strongly penalising offenders," said Rukmani Dutta, a final-year political science student at Delhi University.
Protesters said they would continue to demonstrate until they get firm assurances from the government.
"Until and unless the government understands the pulse of the people and imposes strict action against these criminals, we will not relent," said Sherry Kaur, a student at Indraprastha University, also in New Delhi.