BANGKOK - US President Barack Obama arrived on Sunday in Bangkok, the first stop of his first official foreign trip since he was re-elected earlier this month. Obama visited a world-reputed Buddist temple, attended an audience with Thai King Bhumibol Adulyadej and met with Thai Prime Minister Yingluck Shinawatra.
Obama arrived in his Air Force One jet plane at Don Muang airport on the northern suburbs of Bangkok at about 03.00 pm local time and was whisked away by a top-security motorcade to Wat Phra Chetupon Vimangklaram temple at the heart of the Thai capital. Accompanied on his tour to the temple by US Ambassador Kristie Kenney, Obama admired centuries-old mural paintings and a giant reclining Buddha statue at the temple.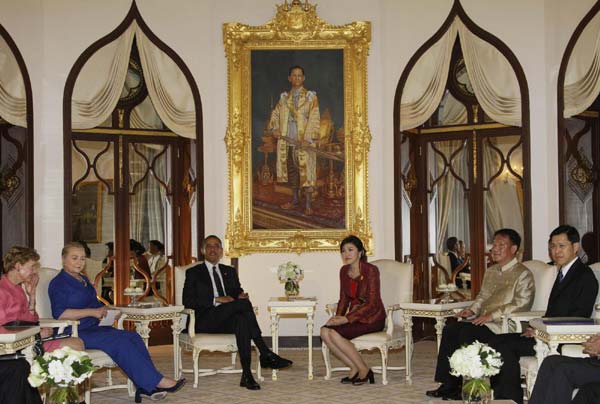 US President Barack Obama (3rd L) holds talk with Thai Prime Minister Yingluck Shinawatra (3rd R) during their meeting at the Government House in Bangkok Nov 18, 2012. [Photo/Agencies] 
Barely an hour later, Obama was given an audience with King Bhumibol which was also attended by the Thai prime minister and the American ambassador at Siriraj Hospital, across Chao Phraya River from the temple.
Finally, Obama was led to Government House where he met with Yingluck and members of her cabinet and held bilateral talks. A state dinner was held at a adjacent building in honor of the visiting US president. After a one-night stay at a Bangkok hotel, Obama is scheduled to leave for Yangon where he will meet with Myanmar President Thein Sein and opposition leader Aung San Suu Kyi.
As the final leg of his first overseas tour, Obama is scheduled to attend an East Asia summit in Cambodia.
The US president and the Thai prime minister did not discuss issues concerning the so-called Trans-Pacific Strategic Economic Partnership Agreement as earlier speculated by the media.
Thai Foreign Minister Surapon Tovichakchaikul said earlier that the TPP issue was no priority for the Thai government. He said if the Yingluck cabinet ever decided to sign the US-led TPP pact, approval from the Thai legislative branch must be obtained first in accordance with the Thai constitution.