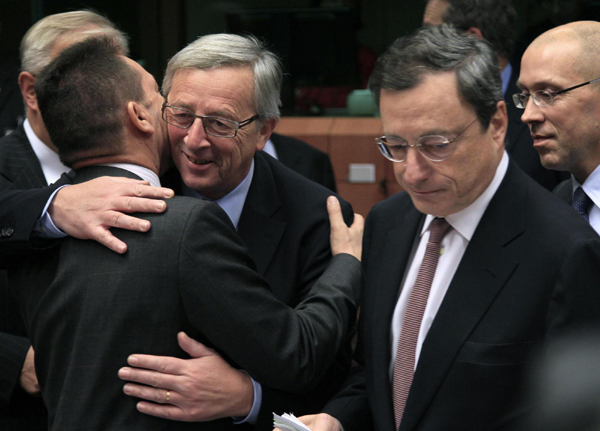 Luxembourg's Prime Minister and Eurogroup chairman Jean-Claude Juncker (2nd L) greets Greece's Finance Minister Yannis Stournaras (L), while European Central Bank (ECB) President Mario Draghi (2nd R) looks on, at a Eurogroup meeting in Brussels Nov 12, 2012. Euro zone finance ministers and officials meet in Brussels on Monday to discuss the situation in Greece, but are not expected to authorize more money for Athens because there is still no agreement on how to make its debts sustainable. [Photo/Agencies]
BRUSSELS - Greece's international lenders agreed on Monday to give the country two more years to make the cuts demanded of it but the euro zone and IMF clashed over a longer-term target date to shrink the country's debt pile.
Euro zone finance ministers gathered in Brussels did not disburse more aid to the debt-ridden country and by granting a request from Athens for more time, face an extra funding bill of around 33 billion euros ($41.88 billion), according to a document prepared for the meeting.
"The Eurogroup concludes that the revised fiscal targets as requested by the Greek government and reported by the troika would be an appropriate adjustment," Jean-Claude Juncker, the chairman of euro zone finance ministers, told a news conference after nearly six hours of talks.
Juncker said a further Eurogroup meeting would take place on Nov 20 while officials said more negotiations could be required the week after that to nail down a new deal.
Despite Greece approving a tough 2013 budget last week, which it hoped would meet conditions for the release of a tranche of 31.5 billion euros of emergency loans under its second bailout programme, its lenders still need to agree on how to make its debts sustainable into the next decade.
International Monetary Fund chief Christine Lagarde said more work was needed to cement the budget measures.
"That ... (budget law) clearly needs to be reviewed a little bit, to make sure that all prior actions contained in that budget law are actually taken," she told the same news conference. "There will be a few, only a few additional prior actions to be verified in the coming days."
A compliance report by the European Commission, the IMF and the European Central Bank, together known as troika, calculated that giving Greece two more years to meet its immediate debt-cutting targets would leave a funding hole of 32.6 billion euros to be filled up to 2016.
Discussion on how to close that gap will be high on the ministers' agenda when they next meet.
A target was set in March for Greece to achieve a primary surplus of 4.5 percent of GDP in 2014. That will now be moved to 2016.
Lagarde also said the IMF did not agree with Juncker, who said a target to reduce Greece's debts to 120 percent of GDP by 2020, from around 190 percent next year, should similarly be shifted back by two years.
"In our view the appropriate timetable is 120 percent by 2020," Lagarde said. "We clearly have different views. What matters at the end of the day is the sustainability of Greek debt so that country can be back on its feet."
The IMF has set 120 percent as the target, saying that anything much above that will not be sustainable given Greece's low growth prospects and high external borrowing requirements.
Greece's lenders will not release more money until a "debt sustainability analysis" from the troika, has spelled out how to reach that goal. That analysis is expected to be discussed in more detail at the meeting on November 20.
Loans have been held up since Athens, which has received two bailout packages from the euro zone and IMF, went off-track with promised reforms and budget cuts, partly as a result of holding two elections in the space of three months earlier this year.
The IMF has been pushing for governments to write off some of their official loans to Greece, but Germany, the European Commission and others have said it is not legally possible.
"All avenues in order to reduce debt on Greece are being explored and will continue to be explored in the coming days," Lagarde said.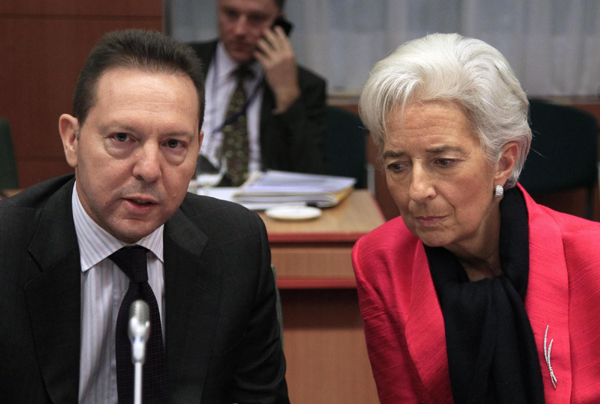 Greece's Finance Minister Yannis Stournaras (L) talks with International Monetary Fund (IMF) Managing Director Christine Lagarde at a Eurogroup meeting in Brussels Nov 12, 2012. [Photo/Agencies]