Shinzo Abe, new leader of Japan's Liberal Democratic Party and former prime minister, is famous for his devotion to building an aggressive Japan and is even more likely to strengthen its hard line against China.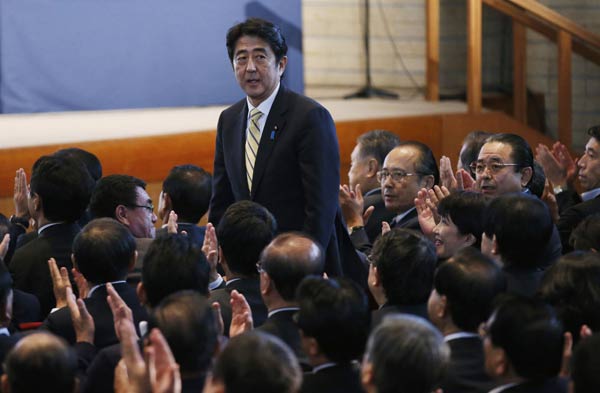 Shinzo Abe of the Liberal Democratic Party, Japan's main opposition group, acknowledges applause from parliamentarians after he was elected LDP leader at their headquarters in Tokyo on Wednesday. Photo by Toru Hanai / Reuters
His re-election as head of Japan's major opposition party is probably something Chinese should look forward to with mixed feelings.
Abe's hard line is not something new for China.
In his book Toward a Beautiful Nation published in July 2006, which became a bestseller, Abe said that Class-A war criminals who were sentenced at the Tokyo War Crimes Tribunal after World War II were not war criminals if judged by domestic law.

The 58-year-old politician is sparing no efforts to support the controversial Japanese Society for History Textbook Reform and the New History Textbook, claiming that history textbooks must be conducive to forming the national consciousness.
His denial of the abduction of woman as sex slaves during World War II by Japanese troops angered surrounding Asian countries such as the Republic of Korea and China.
Abe is regarded as being tougher toward China than incumbent Japanese Prime Minister Yoshihiko Noda.
"I am determined to protect Japan's territorial land and sea and, most importantly, the Japanese people," the 58-year-old vowed in his last public speech before the party leadership election, while declaring his country is in "national calamity" and its "beautiful land and sea" have been threatened.
"Abe is more conservative than Shigeru Ishiba, especially on the issue of history, but less conservative than Nobuteru Ishihara, who has an outspoken and hawkish father and whose major supporters are veterans of the LDP," said Wang Ping, an expert on Japanese studies at the Chinese Academy of Social Sciences, comparing the three major candidates in the LDP leadership election.
Wang said the former prime minister won the leadership runoff against Ishiba, who was defense minister from 2007 to 2008, because Ishiba, regarded as one of the LDP's "young Turks", found it hard to get support from his party's senior members.
Zhou Yongsheng, an expert on Japanese studies at China Foreign Affairs University, said that Abe was born to be "a typical conservative politician".
Both Abe's father and grandfather were politicians. His mother, possibly more well-known, was the daughter of Nobusuke Kishi, who was a member of the Tojo Cabinet during World War II and prime minister of Japan from 1957 to 1960.
"However, Abe is also a politician of great courage who managed to bring Japan-China ties back on track after he succeeded Junichiro Koizumi in 2006," Zhou said.
In October 2006, Abe made an "ice-breaking" visit to Beijing after his predecessor Koizumi antagonized China by his annual visits to the Yasukuni Shrine, which honors the nation's war dead, including 12 Class-A war criminals.
Wang said Abe is actually a rather pragmatic conservative.
"Tough statements during the election season are aimed at winning votes.
But it is also a possible political choice that Abe may carry out measures to greatly ease tensions with China," she said.
More clues of Abe's stance as a pragmatic conservative politician could be found in an interview in 2005 with the monthly literary magazine Chuo Koron, in which he presented his thoughts on what policies he saw necessary to enhance Japan's position in international affairs.
Abe said in the interview that Japan should adopt a more robust leadership role in the global community and increase its involvement in international rule-making.
And more importantly, he envisioned improved relations with China while emphasizing that the China-Japan Friendship Treaty is vital in serving Japan's national interests, and Japan should take a stronger strategic approach while maintaining a balance between the respective interests of the two nations.
Contact the writer at wangchenyan@chinadaily.com.cn