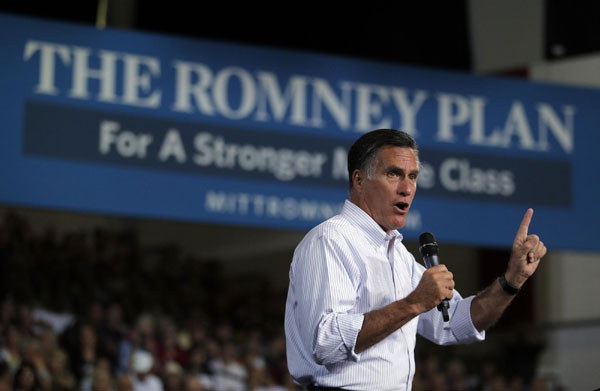 Republican presidential candidate and former Massachusetts Governor Mitt Romney speaks at a campaign rally in Las Vegas, Nevada September 21, 2012.  [Photo/Agencies]
WASHINGTON - Republican presidential candidate Mitt Romney fought back on Friday against Democrats' claims that he paid no taxes in some years, releasing a letter from his accountants saying he paid an effective federal tax rate of at least 13.6 percent annually over 20 years.
Despite heavy political pressure, Romney stood firm in refusing to make those returns public, but followed through on an earlier promise to release his 2011 return. It showed he paid $1.9 million in taxes on more than $13 million in income - an effective tax rate of 14.1 percent.
That is a lower rate than most American wage-earners pay because Romney gets most of his income from investment profits, dividends and interest. Those earnings are taxed at a lower rate than wages, which are taxed at a top rate of 35 percent.
President Barack Obama, Romney's foe in the Nov. 6 election, paid a rate of 20.5 percent in 2011, and Romney's vice presidential running mate Paul Ryan paid an effective rate of 20 percent last year.
Romney's release of a 20-year summary of his annual returns came in response to allegations from Senate Democratic leader Harry Reid and others that Romney might have avoided paying taxes at all in some of those years.
But the release did not ease criticism of Romney for his refusal to let the public see tax returns for the years before 2010. The Obama campaign said his use of overseas tax havens in jurisdictions such as the Cayman Islands was another sign that Romney plays by tax rules that favor the rich and powerful, and enjoys benefits that are not available to most Americans.
"Why does Mitt Romney not just release the full returns, instead of the bare summary he has provided of the last 20 years, so voters can make their own judgments about Mitt Romney's finances?" asked Stephanie Cutter, Obama's deputy campaign manager.
Romney has steadfastly refused to release the returns, breaking a longstanding presidential campaign tradition. He said earlier this year it would just give Democrats "hundreds or thousands of more pages to pick through, distort and lie about."
Romney also was criticized for taking less than the full write-off for his charitable donations in 2011, an unusual move designed to keep his effective tax rate above the 13 percent minimum that Romney said in August he had paid each year.  
Without the move, Romney would only have paid an effective tax rate of about 10.5 percent, David Kautter of American University's Kogod Tax Center estimated.
But the maneuver was political embarrassing for a candidate who said earlier this year that he did not pay more taxes than were legally due and if he did "I don't think I'd be qualified to become president."
Reid said in a statement the move raised questions about Romney's other tax dealings.
'What' Else was Manipulated?'
"Mitt Romney manipulated one of the only two years of tax returns he's seen fit to show the American people - and then only to 'conform' with his public statements," Reid said. "That raises the question: What else in those returns has Romney manipulated?"
The release of the information on Friday afternoon, traditionally a time when politicians make public information they hope will not attract heavy news coverage, came after a brutal week for Romney's presidential campaign.
A secretly recorded video released earlier in the week showed Romney denigrating the 47 percent of Americans who would back Obama "no matter what" as government-dependent victims who pay no taxes. That followed Romney's widely criticized response last week to attacks on U.S. compounds in Libya and Egypt.
Romney has fallen slightly behind Obama in polls in the race for the White House, with a series of three high-stakes debates between the two scheduled in October.
In January, Romney released his 2010 return, which showed he paid an effective tax rate of 13.9 percent, and had promised to release his 2011 return before the election.
His campaign said the 2011 return was released on Friday because that was when it was filed. Romney had sought an extension earlier in the year on the mid-April filing deadline.
The 2011 return showed Romney donated about $4 million to charity in 2011, amounting to nearly 30 percent of his income, including at least $1.1 million given to the Mormon Church to which they belong, but Romney took a deduction of only about $2.25 million.
Romney has refused to release returns from his years as head of Bain Capital, a private equity fund that Democratic critics have charged plundered companies and cut jobs in a quest for profits.
One of the wealthiest Americans to ever seek the White House, Romney has an estimated net worth between $190 million and $250 million.
The Romney campaign published a statement on Friday from former Internal Revenue Service Commissioner Fred Goldberg, who declared the returns "reflect the complexity of our laws and the types of investment activity that I would anticipate for persons in their circumstances."
Goldberg said, "In my judgment, they have fully satisfied their responsibilities as taxpayers."
The letter from accountants PricewaterhouseCoopers said the average of Romney's annual effective federal personal income tax rate during the 20-year period up to 2009 was 20.2 percent, and he and his wife, Ann, had a charitable deduction rate of 13.45 percent.
The 20-year summary of his taxes said he owed both state and federal income taxes in each year between 1990 and 2009.
The campaign also released a letter from Romney's doctor noting he was in excellent health, but occasionally needed to use an inhaler to ease an obstruction in his airways.