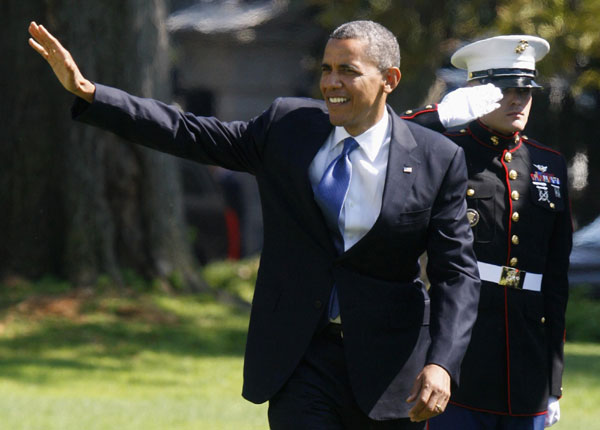 US President Barack Obama waves to visitors as he returns from campaign events in Virginia at the White House in Washington, September 21, 2012. [Photo/Agencies] 
WASHINGTON - US Democratic President Barack Obama and his allies scored a  victory in August over Republican challenger Mitt Romney and his backers in the race for campaign money, financial disclosures showed Thursday.
Monthly reports filed with the Federal Election Commission indicate that Obama's strategy of collecting relatively small donations from donors could offset Republicans' efforts to boost Romney through big-money contributions by wealthy supporters.
In a rare show of strength, the key pro-Obama "Super PAC" - a political action committee that operates outside the president's campaign and focuses on buying ads - raised more money last month than its rival pro-Romney group, according to FEC filings.
The FEC reports portray massive outlays by both campaigns in August - spending almost as much as they raised - as campaigns approached their parties' nominating conventions and sought to establish themes in the home stretch to the November 6 vote.
With Election Day looming, the candidates' ability to sustain large on-the-ground operations and be flexible for rapid response through TV ads may prove crucial in the tight race.
Obama's campaign was particularly active in August, spending $83.2 million, a lot of it on ads that focused on the president's efforts to improve the economy and cast Romney as a wealthy former private equity executive who is out of touch with the concerns of most Americans.
Obama's campaign ended the month with $88.8 million on hand, compared with $50.4 million for Romney's campaign.
Romney is able to tap a much stronger Republican National Committee - which had $76.6 million left on hand, compared with just $7.1 million for the Democratic National Committee - but some of the RNC money could go toward congressional candidates, and there are various limits on how Romney can use RNC funds.
Since April, Romney has relied on outside backers for more than half of his ads, an academic study found last week - far more than the president, who relied on Democratic outside groups for less than 10 percent of anti-Romney or pro-Obama ads.
In August, the key pro-Romney Super PAC Restore Our Future plowed through $21.2 million, while its fundraising declined for the second month, FEC disclosures showed.
That left the group with just $6.3 million in cash on hand, raising questions about how much of an ad-buying force it will be in the final weeks before the election.
Restore Our Future - whose attack ads on Romney's primary contest foes were key to his clinching the Republican nomination - raised $7 million in August.
That lagged the pro-Obama Priorities USA Action, which had its best fundraising month in August, bringing in $10.1 million. It had $4.8 million in the bank at the end of last month.
The pro-Obama Super PAC had struggled to attract Democratic donors, who generally disdain rules that allow Super PACs to raise and spend unlimited funds.
Obama's Advantage
Restore Our Future kicked up its spending in August to try to counter Obama's ads that dominated the airwaves in many parts of the country last month.
Romney himself raised $66.1 million in August, according to FEC filings. But the campaign spent $61.2 million and could not dip into a large chunk of its cash because a provision in US campaign law walled it off until after his official nomination at the Republican convention in Tampa in late August.
In fact, because of the law, Romney wound up stretched for cash at the end of August and had to take out a $20 million loan to make it to the general election period.
In total fundraising, the president and the DNC remained ahead of Romney and the Republican Party, having raised about $742 million this campaign season, compared with roughly $630 million raised by Republicans, according to news releases and FEC disclosures.
Election finance analysts say money raised for the presidential campaigns - as opposed to money raised for the parties - is more flexible because it can be used for spur-of-the-moment investments, for example, to instantly rebut the opponent's latest attack.
Parties provide key support when it comes to mobilizing voters and grassroots outreach, but this year they have a $21.7 million cap on how much they can coordinate with the campaigns, which limits their capacity for advertising.
On Romney's side
Romney stands to benefit from other independent groups that can raise and spend unlimited amounts. One is American Crossroads, a Super PAC and nonprofit co-founded by former George W. Bush aide, Karl Rove.
In August, the group raised $9.4 million and had $32 million left on hand, FEC filings showed.
Romney also benefits from two tax-exempt advocacy groups that are not required to disclose their fundraising reports or donors: American Crossroads' sister group Crossroads GPS and Americans for Prosperity, funded by billionaire brothers Charles and David Koch.
Even so, the August totals - along with the independent Republican groups turning their focus to races for the US Senate and House of Representatives - could reflect some of the discontent that many conservatives feel toward Romney's campaign, which polls put slightly behind Obama's nationwide and in several of the politically divided "swing" states that will decide the election.