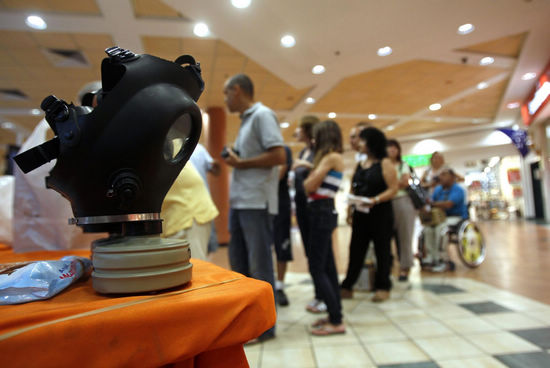 People queue to receive gas mask kits at a distribution point in a shopping mall in the town of Mevasseret Zion, near Jerusalem July 24, 2012. [Photo/Agencies]
JERUSALEM - Israel's military chief on Tuesday afternoon warned that an attack on Syria's chemical weapon stocks could ignite a regional conflict.
"The army may find it difficult to launch a pinpoint attack and we may be dragged into a broader conflict," Lt. Gen. Benny Gantz was quoted by the Ynet news site as telling the parliament's foreign affairs and defense committee.
Gantz said the Syrian government has bolstered protection around what is widely believed to be among the Middle East's largest stores of weapons of mass destruction, and none have made their way to "negative elements" as of yet.
"But this situation may change, and then we will be faced with a dilemma," the military chief said.
Earlier Tuesday, Syrian rebel group the Free Syrian Army claimed that the government has moved chemical weapons to airports near its borders.
"We reveal that (Syrian President Bashar) al-Assad has transferred some of these weapons and equipment for mixing chemical components to airports on the border," the group said in a statement, adding that the move was meant to pressure the international community.
However, the group downplayed fears that the Syrian government would turn its unconventional weapons against Israel, noting that it "has not fired a single bullet against Israel during the course of three decades, and is certainly not going to use chemical weapons against that country."
The statement followed an official announcement made by Damascus on Monday, which sought to reassert that the Syrian government is securing its chemical arsenal and would only use it in the event of foreign military intervention.
"Syria will never use chemical or other unconventional weapons against its people no matter what, and will only use them in case of external aggression... The generals will be deciding when and how we use them," Syrian Foreign Ministry's spokesman Jihad Makdissi said at a televised news conference.
It was the first time the Syrian government publicly acknowledged the existence of its chemical weapon stocks.
The comments sparked international condemnation, with US President Barack Obama warning that Assad and his associates would be held accountable for making the "tragic mistake" of using such weapons.
Meanwhile, the Israeli military is closely monitoring events in Syria. Forces deployed at the border have been put on maximal alert since last week, when Assad's brother-in-law and military chief were killed in a bomb attack while the rebel forces seemed to be gaining ground in fierce battles that rattled Damascus.
On Sunday, Israeli Prime Minister Benjamin Netanyahu and Defense Minister Ehud Barak both stressed that Israel was prepared to react if Syria's armaments fell into the hands of Lebanon-based Hezbollah, al-Qaida-linked forces or any "irresponsible elements" fighting to topple Assad.
"In this environment... we will defend ourselves in any situation, and with any method, judiciously and responsibly," Barak told Israel Radio, but declined to specify what his country' s response would entail.
Israeli military officials have recently said any sign that the weapons were moved out of the Syrian government's control would constitute a "casus belli" -- an act of war to which Israeli is likely to respond.
The Israel Air Force is reportedly poised to attack convoys or shoot down aircraft suspected of smuggling weapons to Lebanon.