JERUSALEM - An Israeli counter-terrorism expert on Thursday discarded recent rumors that former Palestinian leader Yasser Arafat died poisoned and claimed that traces of Polonium 210 found on the rais' personal belonging were planted long after Arafat's death.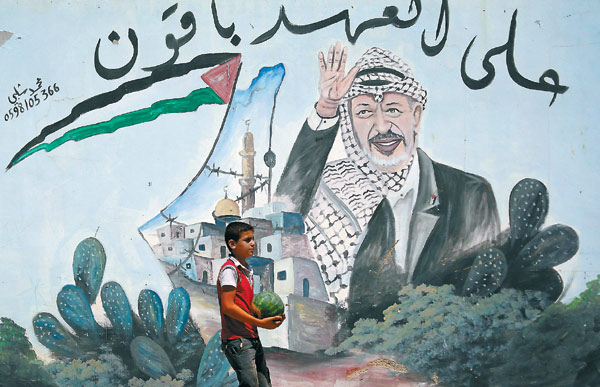 A Palestinian youth walks next to a mural depicting late Palestinian leader Yasser Arafat, in the northern West Bank village of Kabatyeh on Wednesday. The Arabic text quotes a famous idiom meaning "we are holding to our promise". Mohammed Ballas / Associated Press
In an interview with The Jerusalem Post, Dr. Eli Karmon of the Herzliya Interdisciplinary Center's Institute for Counter- Terrorism, said that recent claims that Arafat was poisoned with highly radioactive Polonium are not based on facts.
According to a recent report on the Qatari based news network Al Jazeera, abnormally high levels of Polonium were found on organic remains on the deceased Arab leader's personal belongings.
The Polonium traces were analyzed by Swiss specialists after Arafat's widow, Suha, agreed to provide Al Jazeera with a few personal items that belonged to the former Palestinian president.
However, Karmon said that it was impossible that after eight years there were still high levels of Polonium, given that Arafat was in fact poisoned with the substance.
"If it had been used to for poisoning, minimal levels should be seen now. Yet much higher levels were found. Someone planted the polonium much later," said Karmon.
Karmon also added that if it were true that Arafat's belonging had traces of Polonium, the places those items were kept would also retain traces of the radioactive substance.
"Did Al-Jazeera check the home of Suha Arafat in Paris and Malta where she kept the items for traces of polonium?" asked Karmon, since Al Jazeera's report did not include those analysis.
"If Suha Arafat safeguarded these contaminated materials, why, after seven years, was she not poisoned too? She touched these things and Arafat in hospital," he added.
Since the TV network released the report, the mystery and speculations surrounding Arafat's death were revived once again, after suspicions of poisoning during the rais' illness and subsequent death led the Palestinian National Authority to point a finger to Israel.
Foreign Ministry officials on Thursday derided the reports, in conversation with Xinhua.
"All of a sudden, Suha's checking her wash basket and discovered clothes that weren't washed for eight years," Deputy Spokesman Paul Hirschson said, derisively.
"Suddenly, out of nowhere a couple of garments turn up; we test them, and presto! There's Polonium," he said.
"She's got the medical files; why doesn't she just publish them? " he asked, adding "I think the Israelis and the Palestinians deserve to know the truth."