Mexico's old rulers claimed victory in a presidential election on Sunday, ending 12 years in opposition after a campaign dominated by a sputtering economy and rampant drug violence.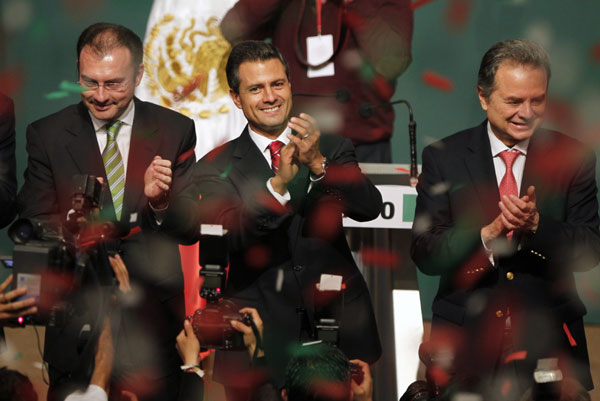 Enrique Pena Nieto, presidential candidate of the Institutional Revolutionary Party, stands next to campaign manager Luis Videgaray (left) and President of the PRI party Joaquin Coldwell in Mexico City on Sunday, as he greets supporters after exit polls showed him in first place. Tomas Bravo / Reuters
After pledging to restore order and ramp up economic growth, Enrique Pena Nieto of the Institutional Revolutionary Party had a clear lead over his rivals in exit polls and a "quick count" conducted by electoral authorities.
Although his main rival said it was too early to concede defeat, the 45-year-old Pena Nieto delivered a late-night victory speech to cheering supporters, and a senior electoral official said the PRI candidate's lead was "irreversible".
"Mexicans have given our party another chance. We are going to honor it with results," a visibly moved Pena Nieto told followers packed inside the PRI headquarters in Mexico City.
Jubilant supporters waved banners sporting caricatures of their candidate and his trademark quiff, and confetti in the red, green and white of the Mexican flag - and the PRI's colors - rained down inside the hall.
Pena Nieto declared his win late on Sunday, after the independent Federal Electoral Institute announced the first official results showing him with 38 percent of the vote.
His nearest rival, leftist Andres Manuel Lopez Obrador from the Party of the Democratic Revolution, was at 31 percent. He has not conceded the race.
The margin between the two contenders was not as wide as in exit polls, but difficult to overcome.
Pena Nieto entered the PRI headquarters in Mexico City to a hero's welcome soon after the results were announced.
"Presidente! Presidente!" the crowd chanted.
"The day of voting has ended. The country now demands ... the unity of all Mexicans," he said, and then thanked the other candidates by name for what he said was their contribution to democracy.
IFE President Leondardo Valdes said the first official results were based on returns from 7,500 polling stations and have a 0.5 percent margin of error.
Mexican President Felipe Calderon congratulated Pena Nieto on his triumph, which completed a dramatic comeback for the PRI.
Pena Nieto's advantage was much less convincing than the PRI had hoped for, with most polls in the immediate run-up to the election showing he would win by 10 to 15 percentage points.
Telegenic candidate
The telegenic Pena Nieto built his reputation as governor of the state of Mexico in 2005-2011, where he oversaw solid economic growth and brought down the state government's debt.
"He did a really good job ... building lots of hospitals, roads and schools," said Lino Posadas, 30, a parking attendant from the town of San Jose del Rincon in the state.
To his critics, Pena Nieto is a product created by Mexico's main television companies to serve as a proxy for the country's biggest businesses and the ruling elites in the PRI.
Renowned as much for his unfailingly well-groomed appearance as his political skills, the handsome Pena Nieto gave a fresh face to the PRI, helping to instill a new sense of discipline and make the party electable again.
He hopes to use economic reform as a springboard to ignite growth, create jobs and draw the heat out of a drug war that has killed more than 55,000 people since late 2006.
He has pledged to boost economic growth to about 6 percent a year and make bold economic changes, including reforms to allow more private investment in Mexico's state-run oil industry.
With Pena Nieto claiming a clear victory, Mexico's presidential election completed a dramatic comeback for the PRI, which had been out of office for 12 years. However, analysts say Pena Nieto is facing an uneven road ahead.
Boosting economic growth could be the biggest challenge for Pena Nieto. But if Mexico's economy doesn't improve, then the PRI's ruling foundation could be in trouble.
Pena Nieto also faces stiff pressure to eradicate corruption and bribery within his own party, notorious for corruption and collusion with drug cartels. If the president-elect tries to fulfill his campaign promises, he will have to manage drastic reforms and risk splits in his own party.
How to launch a new and better drug control strategy is also a question that will test his wit and character.
Calderon's drug war dissatisfied Mexicans but was favored by Washington, which provides $400 million a year in aid to cut the drug trafficking channel from Latin America to the US.
Local media said that Washington did not want to see the PRI return to power due to some party members' close ties with the drug cartels. Even though Pena Nieto has vowed to restore social order, he has yet to explain his specific measures.
Having run Mexico as a virtual one-party state for most of the 20th century, it was ousted in an election 12 years ago and was seen by many as being on its death bed when it finished way back in third place in the 2006 presidential vote.
Reuters-AFP-Xinhua