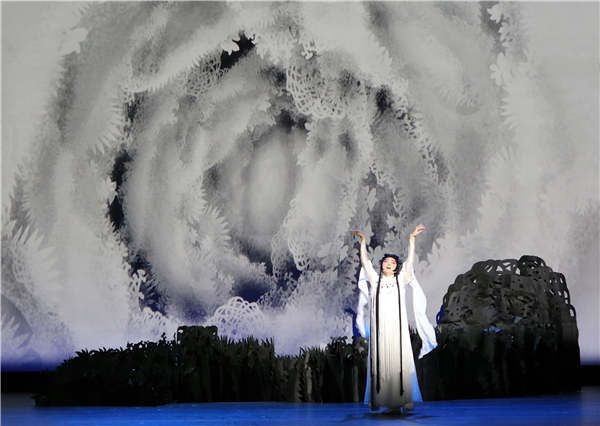 Ma's first opera production, Paradise Interrupted, which premiered at 39th annual Spoleto Festival USA in May 2015. [Photo provided to China Daily]
An installation by artist Ma Wen on display in Beijing pays tribute to what has been the main medium of expression and communication for centuries in China.
Handcrafted pieces of glass of various sizes in the shape of clouds hang above a reflecting pool filled with Chinese ink. The flickering lights create shadows in the high-ceiling gallery.
This is the latest installation work, titled Seeing Mountain As Mountain, by artist Ma Wen, also known as Jennifer Wen Ma in the West, which is being exhibited at the Ink Studio in Beijing.
The exhibition - Luminous Shadows - by eight Chinese artists curated by Alan Yeung, featuring paintings, sculptures and installations, began on Nov 18 and runs till Jan 19.
The space of the gallery is used like a cave. "The lights dim rhythmically like breathing. When a drop of ink falls from the ceiling, it disrupts the pieces of glass and conjures up ripples," says Ma, standing next to her installation.
The artist, who draws her inspiration from Zen Buddhism, explores the contemporary use of Chinese ink, which has been the main medium of expression and communication for centuries in China.
Ma, who was born in Beijing in 1973, now divides her time between Beijing and New York.
The artist, who moved to the United States in 1986, started learning oil painting at the age of 16 and didn't learn traditional Chinese ink painting until 22.
Ma has been obsessed with Chinese ink ever since she worked as one of the seven members of the core creative team for the opening and closing ceremonies of the Beijing Olympics, where she was the chief designer for visual and special effects.