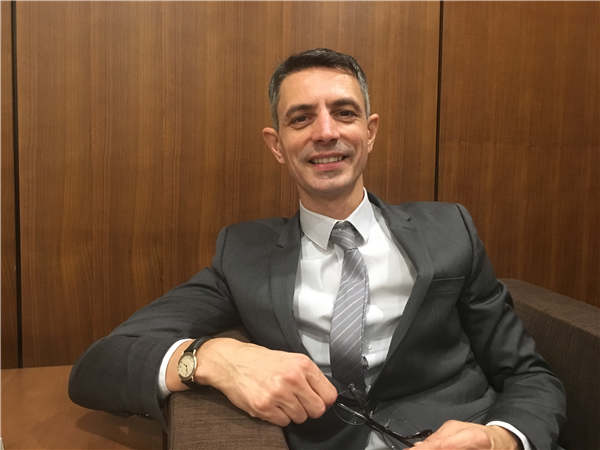 Louis-Samuel Berger, Palace of Versailles deputy managing director [Photo by Wang Kaihao/China Daily]
As a national symbol of France, the Palace of Versailles on the outskirts of Paris, also known as the Chateau de Versailles, is actively extending its global horizons in a bid to enhance its international standing.
For example, Versailles recently joined with 12 other top-level French museums to become part of an ambitious cultural project to loan portions of its collections on a long-term basis to the newly-opened Louvre Abu Dhabi in the capital of the United Arab Emirates.
At the same time, the museum, seat of France's permanent royal court from 1682 to 1789, also intends to forge closer ties with China.
"It is true that Versailles shares the Forbidden City's extravagance," Louis-Samuel Berger, deputy managing director of the institution, tells China Daily, citing a comparison with between the French palace and Beijing's Palace Museum.
"Versailles is ultimately a work of art. Its walls, its contents, and the space in which it is built ... everything is work of art," Berger says proudly.
Berger came to Tsinghua University in Beijing last week to join the cultural heritage panel at the Tsinghua Culture Creativity Forum, an occasion that invited professionals from all over the world to share their case studies in successful cultural development.
In 2016, the Palace of Versailles received 668,000 Chinese tourists, or 13 percent of the total number of visitors to the museum annually, after France and the United States, according to Berger.
"The interesting thing was that 29 percent of the guidance pamphlets were given to Chinese visitors, which shows they are more willing than other nationalities to read and learn about Versailles," Berger smiles.
Perhaps, that explains why the museum opened a public account on WeChat, the popular Chinese social media app, as early as in 2015.
In 2014, an exhibition called China in Versailles was held in the museum to display French artworks which particularly reflected Chinese characteristics.
"In the 17th and 18th centuries, the French (royal) court was very fond of China, and Versailles was greatly influenced by Chinese culture at that time," Berger recalls. "We gathered those works especially for our Chinese visitors."