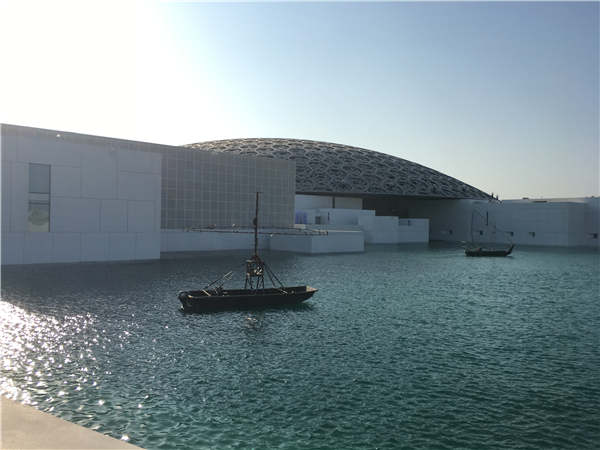 The newly opened Louvre Abu Dhab with a huge dome is a architectural wonder and a world-class museum. [Photo by Wang Kaihao/China Daily]
A stunning piece of architecture in its own right, the newly opened Louvre Abu Dhabi is already proving itself as a cultural oasis to rival any museum in the world.
When I arrived in Abu Dhabi, the capital of the United Arab Emirates, I found the city quite different from what I had expected - a place full of historical sites revealing the exotic flavors of the Middle East.
Instead, for a city that only started to boom after the 1970s, Abu Dhabi appears a little too "new" for my tastes. What continues to pass by my car window are any array of contemporary shopping malls and luxury hotels, one after another.
However, if the city lacks a certain old charm it will not disappoint those looking for mix of different cultures, and by that I don't just mean a wide choice of cuisines or local multi-ethnic communities. The newly opened Louvre Abu Dhabi, which is positioning itself as the first world-class museum in the Arab world, is just another perfect example of this.
As soon as you visit the 24,000-square-meter facility which opened on Saadiyat Island on Nov 11, it soon becomes apparent that this is one of the most ambitious cultural projects in the modern world.
As I step into the huge dome of the museum, a vast open-air space measuring 180 meters in diameter, I'm presented with panoramic views of the sea on one side, and the backdrop of the desert on the other. But what impresses most of all is the so-called "rain of light" that welcomes visitors.