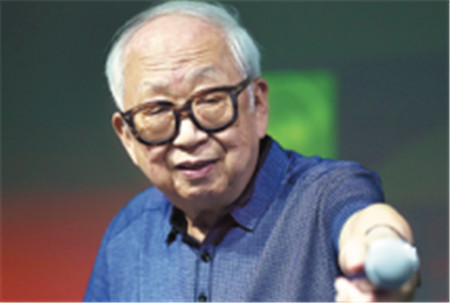 Composer Wang Liping spent four and a half years to finish the 13 original music pieces for the TV drama. [Photo provided to China Daily]
Wang Liping talks as if it had just happened yesterday.
At 76 he can still recall vividly the day he was chosen to be the composer of the television adaptation of the Dream of the Red Chamber, one of the four masterpiece of Chinese literature written by the Qing Dynasty (1644-1911) author Cao Xueqin.
It was 1980, and in a small hotel room in Beijing a panel of a dozen people asked Wang asked for his views on the novel and on the main characters, such as Jia Baoyu and Lin Daiyu. The questioners included Wang Fulin, the director of a planned 36-episode TV adaptation of the novel.
"You can't please everyone, so just be upfront and honest," Wang says he told himself before facing the interviewers.
When he had read the novel as a teenager it had not quite been his cup of tea, he says.
"The story is told slowly. I found it tedious at the start because there's no drama. However, the more I read on, the more I liked it. It's a tragedy but it's full of beautiful sadness."
If he was chosen to compose the music for the TV series he would use "emotionally and beautifully tragic rhythms", he told those gathered that day.
By that time, Wang Liping, who was born in Changchun, Jilin province, and obtained a degree in composition from the Central Conservatory of Music in Beijing in 1965, had composed for some popular movies, including Shaolin Temple, the debut film of Jet Li, the Chinese martial arts movie star, which was directed by Chang Hsinyen in 1982.
"Writing the film score for Dream of the Red Chamber had long been my dream. When I read the novel I imagined writing music for each of the main characters."