TV series, novel on great poet Qu Yuan premieres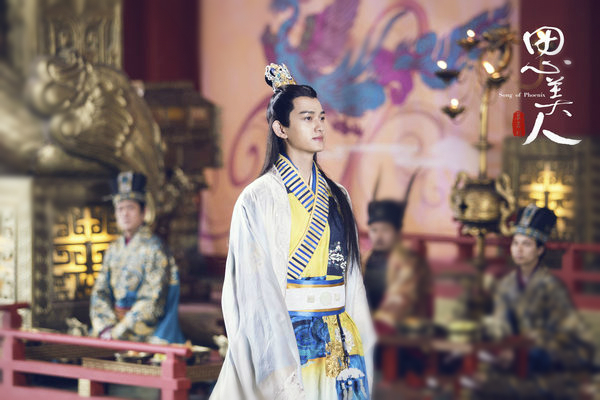 A still from the TV series Song of Phoenix. [Photo/official weibo account of Song of Phoenix]
As the extremely popular TV series In the Name of People will come to a close today, another costume drama, Song of Phoenix, will premiere.
The drama was adapted from Liang Zhenhua's namesake novel, focusing on the legendary life of great Chinese poet Qu Yuan from the Warring States Period (475-221BC).
As the founder of Chinese romantic literature, Qu was famous for his poems Li Sao, Jiu Ge and Jiu Zhang. He brought Chinese poems from a period of collective expression to a new era of individual creation.
Qu was also known for his patriotism. Dragon Boat Festival, the fifth day of the fifth month on the lunar calendar, is a day to remember the great poet.
Actor Ma Ke stars as Qu and actress Zhang Xinyu plays the role of a woman who falls in love with the poet. Zhang also stars as mythical goddess Shan Gui who was portrayed in Qu's poem Shan Gui. Young singer Yiyang Qianxi, a member of TF Boys, plays a role in the TV adaptation as well.
The author Liang Zhenhua, professor from Beijing Normal University, spent five years on the book. To make the novel more interesting to young readers, he added fantasy, romance and tension in the historical story of Qu.
Consisting of four volumes, the first two novels were published in April. On Douban, a major Chinese arts and culture portal, the two have an average of 9.2 points out of 10.
Many readers said they have become more interested in traditional Chinese culture, especially Qu Yuan's Chu Ci Anthology, due to the book.
"The story gives new life to many Qu Yuan's poems and The Book of Songs (Shi Jing). I wish those beautiful poems could return to our daily lives," Douban user Kaiwenlaqisizangli said.