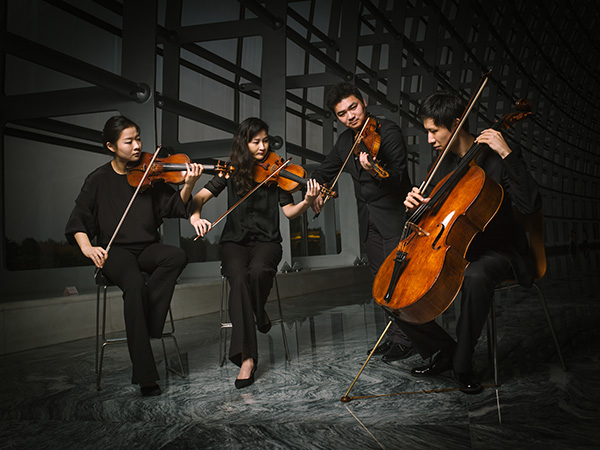 Violinist Ning Fangliang (left) performs with chamber music group, Amber Quartet. [Photo provided to China Daily]
For dancers who wish to take a step closer, even if it is a fleeing one, to performing like a professional, the annual Beijing Dance Festival, initiated by Beijing Dance LDTX Company five years ago, offers a stage. The festival, from July 18 to 30, will focus on educating amateurs in its first week, with 16 professional dance teachers from around the world giving public classes. In the second week about 20 shows from professional dance companies worldwide will be staged.
Song Tingting, who has been a dancer and teacher at Beijing LDTX Dance Company since 2005, says that she introduces the music first, then gets participants to move their bodies in their own way.
"For these amateurs there is nothing professional about dancing. What inspires them is pure passion. However, with encouragement and the right guidance they can enjoy the art as an indispensable part of their lives."
Like Song, Ning Fangliang, a violinist, gives classes to music lovers, from young children to the middle aged.
"Unlike children, who start learning instruments with physical training, such as how to sit and how to use their fingers, adults start with listening to classical music," says Ning, a teacher at the Central Conservatory of Music in Beijing.
"The feeling about playing an instrument is very important to them."
Ning is also a member of the Amber Quartet, a chamber music group founded at the Central Conservatory of Music in 2005 that comprises Ning, violinist Su Yajing, viola player Wang Qi and cellist Yang Yichen. The quartet, which has won three major awards in the Asia-Pacific Chamber Music Competition held in Melbourne, Australia, tours worldwide.
About two years ago the band performed at a gala, and after its performance of Beethoven's String Quartet No. 10 in E-flat major, Op. 74, the Chinese writer Mo Yan, winner of the Nobel Prize for literature in 2012, gave a speech.
He said that when he was young he had wanted to play erhu but had failed, Ning says.
"But he still loves music, and what he cannot express with words can be said with music. What Mo says really explains the power of music. In adult life we all feel great pressures. Playing an instrument or enjoying other art forms can provide wonderful respite from work and make you feel refreshed every day."