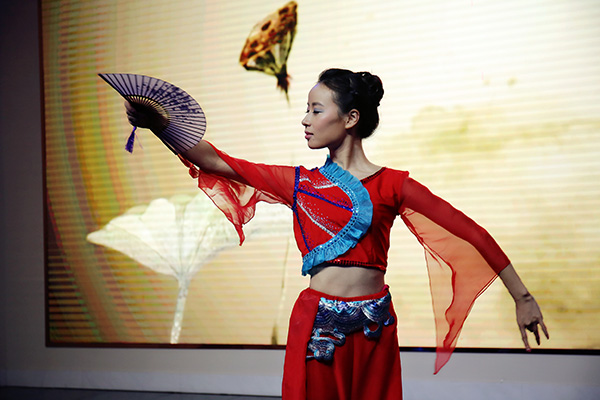 Song Yuanyuan, a 31-year-old white-collar worker in Beijing, is devoted into dancing and acting. [Photo provided to China Daily]
You awake from a dream with a clear picture of yourself on stage, and with the sound of applause for your performance still ringing in your ears. Minutes later you stand before your bathroom mirror, and the cold reality that this was indeed a dream sets in as the person facing you says that it is not you but others who are supposed to be stars. Instead you must get ready for another day in the real world.
There was nothing dreamlike of the music and flickering lights that fired Wu Ping's imagination about becoming a performer. They came from a television screen when she was about 10 years old in her home in Taiyuan, Shanxi province, 30 years ago.
She was entranced by those female dancers on screen, she says, wearing long, colorful traditional Chinese robes, with silky long sleeves and faint smiles like goddess from ancient times.
Rather than being a life-changing event that might even have set Wu on a career path, that cultural feast was enough to satiate her for the time being, and she diligently applied herself to schooling. Eventually she obtained a degree in international trade from the University of International Business and Economics in Beijing, in 2001, and thus made her entree into the world of marketing.
Yet for the 39 year old the passion for dance has never ebbed, even though she is realistic enough to acknowledge that she does not have the "perfect body" that is the requisite for a professional Chinese classical dancer, let alone the experience and years of practice that they can draw on.