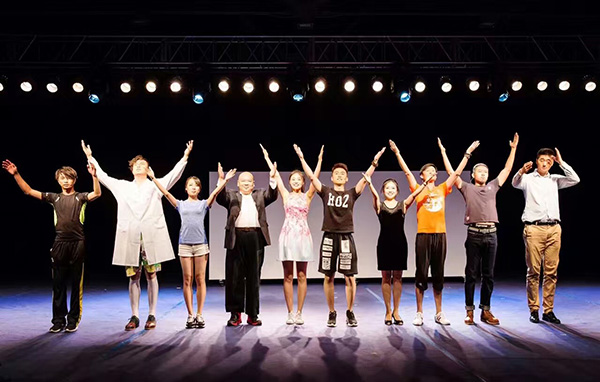 Song Yuanyuan (third to the left) performs in an original drama. [Photo provided to China Daily]
Song Yuanyuan, 31, is just as passionate about Chinese classical dance. She went to the club three years ago simply wanting to do something that would help her get fit, she says.
Song, from Hebei province, who is studying part-time for a master's degree in musicology at Renmin University of China in Beijing, is the product of parents who aspired to see her educated in the arts, and as a child she learned violin and erhu.
She now works in the human resources department of an international company with offices in central Beijing. Her parents' artistic encouragement has paid great dividends, and Song is a member of a drama club, most of whose members are white-collar workers in the area where Song works.
Last year she performed in an original drama at Dayin Theater in Beijing, along with a group of amateur actors.
"We wrote the script together, and it's an environment protection themed drama, which tells the story about our own lives of working in CBD area," Song says.
"We also got a professional director from the Central Academy of Drama to guide us. Though it's an amateur performance, we wanted it to be as professional as possible."
The drama club was formed about four years ago, and Song says that apart from liking acting, it was her desire to build her self-confidence on stage that motivated her to join.
"It has been a challenge. I was afraid to speak in public and I was very nervous when I had to act in front of audiences. When I first joined the club and was asked to read lines with my partner I was too nervous even to open my mouth. But now I can see how changed I am. These days I really like being onstage."
As much as Song enjoys dance, she can see areas in which she thinks the drama club excels, such as requiring teamwork and communication to present a complete work.
"It's a great place to meet people and make friends, too."