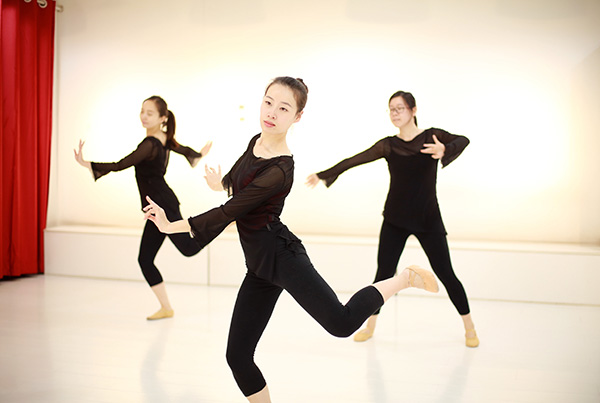 Song Yuanyuan (center) performs Chinese classic dance. [Photo provided to China Daily]
She reckons that the reason she joined the dance club about three years ago was a perfect one-because she loves dance.
"After a hard day's work I like to dance, which is a great way of relaxing," says Wu, who founded her own marketing and consulting company in 2010.
Every weekend she attends a class at the dance club called Payot Dance Studio, which Sun Yushuo, a Beijing Dance Academy graduate, opened about 10 years ago. The studio, which has more than 1,000 members and has two shopfronts in downtown Beijing, offers classes covering many styles, including belly dancing, salsa, jazz and traditional Chinese.
"Becoming educated in art is not just for young people but for adults, too," Sun says. "There are no boundaries. You can dance in your own way, as long as you feel comfortable and confident."
Sun, who choreographed government-sponsored galas for the 2010 Asian Games in Guangzhou, Guangdong province, before opening his studio, says the number of students is increasing, and they range from college students to middle-aged people, with about 12 students in each class.
Wu says genres she has learned include belly dancing and Chinese ethnic dances, but the one that has made the greatest impression on her is Chinese classical dance.
"At first I learned the basics of Chinese classical dance, such as hand gestures. The teacher is a professional dancer-choreographer who has a knack of being able to turn complicated Chinese classical dance theory and techniques into something that is easy to understand. The thing I enjoy most is dancing with paper fans and long sleeves. Whenever I happen to see myself in the mirror when I am dancing it looks simply beautiful."