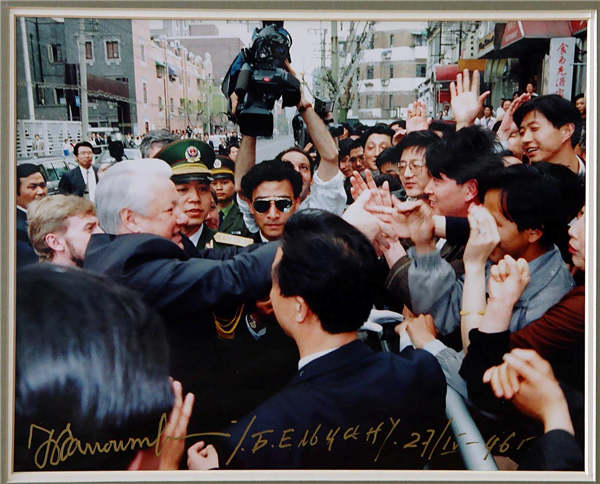 Former Russian leader Boris Yeltsin shakes hands with residents during his visit to Shanghai. [Photo by Xu Genshun/Provided to China Daily]
A look into the past of a political photographer who managed to get up close and personal with some of the world's most high profile leaders
Xu Genshun may already be 67 this year, but the memories of his profession as a political photographer are still as intact as the poignant images he once shot.
For example, he still fondly remembers the moments when former Russian leader Boris Yeltsin suddenly stepped out of his car to shake hands with Shanghai residents and the childlike smile of the former prime minister of Canada Jean Chretien as he rode a Phoenix bicycle through a busy street in the city.
"My photography approach was to tell the hidden stories in history using close-ups of facial expressions, attire details and body language," said Xu, who has throughout his illustrious 28-year-career photographed more than 800 visiting world leaders and other important guests.  
"Those photos captured the dramatic changes taking place in Shanghai back during those times and were a way of recording how China's diplomatic relationships with other countries developed through years."
Born in 1949 when the People's Republic of China was founded, Xu went through the "cultural revolution" (1966-76) after graduating from secondary school and was assigned to the Shanghai Machinery Factory of Mining and Metallurgy.