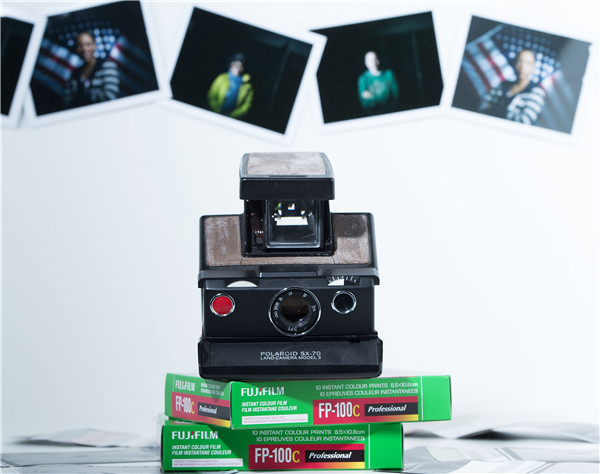 An old Polaroid Camera and some instant films are seen on Dec 12 in Los Angeles. [Photo/Agencies]
At a photography studio in Cleveland, instructor Nicole Follen is trying to convince her students to step back in time and technology - to the age of the humble Polaroid.
She wants the students to create something they can touch and feel - perhaps even something that - gasp - isn't perfect.
So, she guides her class in how to transform digital photos taken on their smartphones into Polaroid-style instant photos that hark back to the bygone analog era.
"You go from something so digital to having a mark in your photography," Follen says. "You have to work for it."
Once upon a time, before digital cameras, people trying to capture moments on film only had the clunky box cameras that spit out square photos with wide white borders that you needed to shake to develop.
Now, Follen uses a printer that links to smartphones and churns out prints similar to those that were all the rage in the 1970s.
Across the United States and Europe, instant photography is making a comeback - and not just in hipster enclaves like Brooklyn.
Leading the trend are those planning weddings and other special occasions. A simple internet search unearths endless do-it-yourself suggestions for asking guests to participate in creating instant memories.
"There's something about Polaroids that just feels so cozy," wrote one bride on a Reddit comment thread.
"I love the photos we have," wrote another. "A few of the pictures were kept by our guests, but we have an amazing keepsake!"