Ethnic art gets designer boost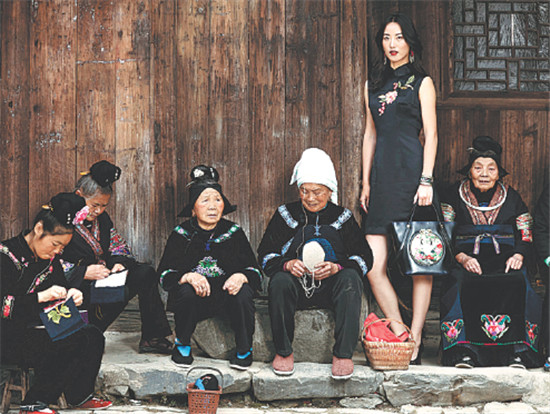 Models for Eve show off the brand's new collections with embroidery patterns inspired from ethnic Miao works in Jidao village, Guizhou province. [Photo provided to China Daily]
Chinese fashion brand Eve takes inspiration from the Miao group to add a rare touch to its products. This, in turn, is helping an old tradition survive. Sun Yuanqing reports.
Tucked away in the mountains, Jidao village is a three-hour drive from Guiyang, the provincial capital of Guizhou province. Here, the ethnic Miao people maintain their traditional lifestyle. They live in wooden houses, preserve meat in early winter and hold gatherings at the riverside to remember their ancestors every year.
On the face of it, all this might seem to have no connection with high fashion, but the community has been a source of inspiration for many designers and fashion houses, including fashion brand Eve.
The Chinese brand recently made a trip to the village to make an advertising campaign for its 2017 spring/summer collection, which features Miao embroidery.
Inspired by the sea, the collection features shades of blue on its suits, sweaters and coats. A smattering of embroidery adorns the classic suit silhouette.
The women's collection includes sleek qipao (traditional Chinese women's dress) and dresses that highlight nature-inspired embroidery.
While traditional Miao embroidery is intricate, Wu Chaohui, creative director of Eve's menswear line, says the brand has simplified it to cater to customers' modern-day needs.
"Traditional Miao embroidery is usually very rich and exaggerated, while modern menswear is understated. So we try to use it (the embroidery) in a selective, moderated way," he says.
"We want to revive this heritage by offering it to an urban clientele, and we hope this tradition will live on."