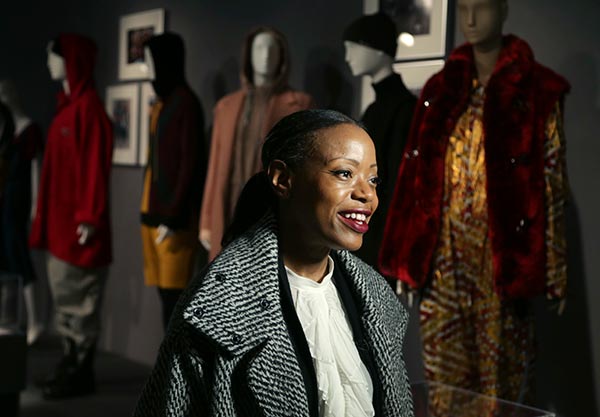 Designer Tracy Reese speaks to a reporter at the opening of the Black Fashion Designers exhibit at the Fashion Institute of Technology in New York. [Photo/Agencies]
As a girl, Tracy Reese thought she might be an architect. Then she caught the fashion bug.
She knew, of course, that designers who are black like her existed. She used to snap up Willi Smith at The Limited growing up in Detroit. She headed to New York with high hopes.
"When I first came to New York my eyes were really opened to the breadth of the industry, but I was looking for our place in it," recalled Reese, who has dressed first lady Michelle Obama.
Reese, along with other noted designers of color, Jeffrey Banks and Laura Smalls among them, spoke at the opening Tuesday of a new exhibition, Black Fashion Designers, at The Museum of the Fashion Institute of Technology.
Running through May 16, the show offers a glimpse into exactly how impactful designers of color have been through the decades, including Reese, Banks and Smalls. Smalls has seen her dresses worn seven times by the departing Obama.
They also know the challenges of striving for beauty in design while attempting to break through in an industry still dominated by whites.