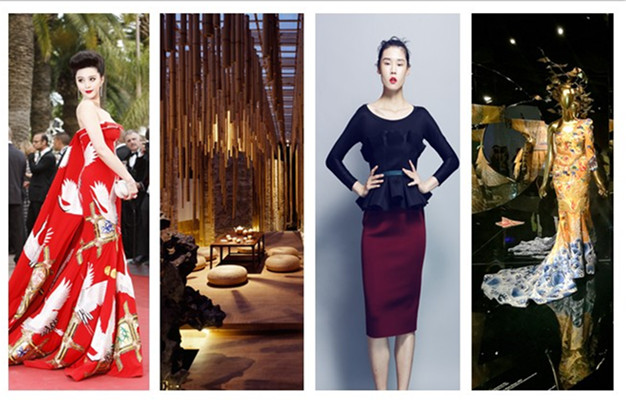 From Left:Chinese actress Fan Bingbing wearing a dress by Christopher Bu at the 2011 Cannes Film Festival;Shang Xia Space exudes Chinese sensibilities;garments from Jiang Yi's 2015 spring/summer collection;Lawrence Xu's one-shoulder dragon dress is also on display at the Met show.[Photo/China Daily]
Traditional flavor
While Bu has tried to categorize his fashion, many other Chinese designers have worked out a different recipe for success - adding modern flavors to the Chinese style allusion.
One such designer is Liu Min, who founded Ms Min in 2010. Trained at London College of Fashion, Liu combines Western cuts with Oriental sensibilities, bringing out her "Chineseness" with subtlety in fabrics she uses. Her 2015 spring/summer collection is called "Quiet Riot", echoing that approach.
"Guided with instinct and a longing for beauty, my search for my own cultural roots has deepened with time," Liu, says.
Another contemporary Chinese designer worth noting is Ban Xiaoxue, the founder of his namesake fashion brand. In one of his collections, the 1984-born designer piled scabs of embroidery on filmy fabrics including the silk organza.
"I also embroidered on netting, often used in sportswear. The result was a cool, modern and ethereal look," he says.
And that's the way to the future, especially when a designer is aiming to get high-end customers, according to Jiang Yi, a Beijing-based designer who opened his own boutique more than a decade ago.
In the 1920s and '30s, China's high-society women mostly wore the qipao, but now most wear Western clothes. The equation between tailors and their clients at the time was also very different from today's designer-customer relations.
Jiang says: "In the olden days, the designers were mostly men, who took measurements not with a tailor's ruler but with their own arms. There may have been a certain degree of courtship, imperceptible to others but intensely felt by the two."