Raising the banner for Chinese fashion
Updated: 2015-01-29 09:24
By Chai Hua(HK Edition)
| | | | | | | | | |
| --- | --- | --- | --- | --- | --- | --- | --- | --- |
|   | | Print | | Mail | | Large Medium  Small | 分享按钮 | 0 |
Tang Guangyan has reinvented the traditional women's outfit, qipao, in a way that each piece is a moving canvas. Chai Hua visits her studio and comes back mesmerized.
In the 20 years since she first fell in love with qipao, fashion designer Tang Guangyan has transformed the traditional Chinese costume, making it her own special artistic form, earning awards and being claimed "queen of qipao".
"With unique designs, qipao becomes moveable art," Tang told China Daily. "Instead of exhibiting paintings at home or in a museum, women can express their appreciation of art and culture by wearing qipao."
Tang's love affair with the style, also known as the "banner dress", began in 1996, as she examined the handmade works of Yang Cheng-gui, the design master from Taiwan, who was to become her mentor, teaching her the arts and skills that helped her become a master in her own right.
The elegant, form-hugging, qipao, also known as cheongsam, traces its history back to the 7th century and the beginnings of the Qing Dynasty (1644-1911). In the intervening years, the popularity of the style has risen and fallen but has come to symbolize the elegance of Chinese fashion. Qipao reached the height of its popularity in the 1920s among fashionable ladies of Shanghai.
Tang, born in 1960, had noticed the dress style - in movies, magazines and in her mother's closet but it was not until 1996, during a visit to Yang's shop on Beijing's famed Wangfujing Street, that the seductive allure of the garment finally struck her.
"It was just so beautiful. When I saw it I knew that was what I wanted." Tang recalled that each detail - edge, button, and stitch, of Yang's works were exquisitely designed.
"Tang introduced me to the best handmade qipao designs and I realized these dresses were not merely clothing. They were art." Tang said.
Keep it simple
"My design concept is to integrate traditional and modern art." Tang said. "My sense of modern fashion is its simplicity and conciseness. I call it the beauty of subtraction." She continued, "Just being beautiful is not enough. The dress should not be too colorful nor too garish. What I like to make are elegant dresses with high-quality materials and a unique design down to the last detail."
Tang says that simple elegance is best expressed in traditional style. "Qipao is so simply just two pieces of fabric, with endless potential for variation. That's the vitality of qipao!"
One of her favorite works she named "Ruyi". It resembles a curved, decorative object with a long, S-shaped handle and a head fashioned like cloud. In Chinese culture the design symbolizes good fortune.
"The Ruyi pattern was often used in the garments of Qing Dynasty, but I use it to show the beauty of simplicity in a classic style." Tang said.
She designed an elegant expression of Ruyi to highlight the soft waistline on one side of the garment - with the shape reflected along the hemline as "echoes' of the original form.
The design earned Tang the "Hundred Flowers Award" - the gold medal at the 2013 China Fine Arts Awards, considered one of the country's highest art distinctions.
She has designed qipao for officials and artists, including the family of a former mayor of San Francisco. She's also designed tangzhuang (Chinese style suits) for male stars like French pianist Richard Clayderman and movie star Jackie Chan.
She has also been commissioned to design dresses for leading international events, including the Miss Universe and Miss World pageants. She was honored as the queen of qipao design by fellow designers, manufacturers and retailers.
Unclaimed legacy
Tang says she is concerned, however, that there may be no one to carry on the tradition and that qipao could fade away from the fashion scene.
"The young need to learn more about traditional culture and establish their own independent comprehension of creative design," she says. She managed to round up eight apprentices but says most young designers prefer to join big international houses, failing to learn the culture and the art form essential in designing elegance.
"I regard each of my works as my own child," said Tang. "A designer needs to give her heart and soul to a dress. That's what I think young designers lack."
Tang graduated from the Central Academy of Art and Design, later renamed the Academy of Art and Design, Tsinghua University.
She relocated to Shenzhen, in 1999, to begin her career as a designer of handmade qipao. Since then she has produced nearly 10,000 garments, embracing Chinese painting, sculpture and poetry as her artistic themes, among others.
She never lacks inspiration. "Qipao design is the only thing in my head. No matter what I see - sculptures, paintings, architecture, poetry, or calligraphy, I consider how to use it in my qipao designs," Tang said.
One of her award-winning works, The Goddess of Spring, was inspired by a poem by Chen Liang, a poet in the Southern Song Dynasty (1127-1279): "It comes, the fragrance of all flowers, after the sudden blossom of wintersweet."
The dress, based on the poet's description, features a single gray branch, bearing blossoms of winter sweet, rising up from wearer's waist against a white background. A Chinese character representing The Goddess of Spring appears on the side.
Inspired by the art of the Dunhuang Mogao Grotto in Gansu province, she created a qipao named "Fairies Spreading Flowers", a representative image of Dunhuang Buddhist culture and art.
When designing a series of qipao costumes for Fortune Global Forum held in Chengdu, Sichuan province, in 2013, Tang examined local legends and culture. She chose a pattern found on an ancient relic in Chengdu, symbolizing four immortal birds flying around the Sun.
To help spread qipao culture, Tang established a museum in May 2014, in Shenzhen with the support of the Silk Park of China, a national demonstration base of silk culture in the city. The 1,400-square-meter museum contains Tang's personal collection of more than 20 antique qipao, as well as classic works from other designers.
Tang is also a familiar name among fashion designers in Hong Kong. Yang Qibin, chairman of Hong Kong Fashion Design Association, praised Tang's innovative qipao designs and exquisite handmade techniques.
Tang said Hong Kong clients like qipao made of silk or other thin fabric with the decoration of beading, lace, and pearl. She admitted that the number of clients from Hong Kong had declined in recent years. The main reason, she believes, is that the appeal of qipao is waning among younger generations.
Tang will bring her favorite items to Hong Kong on Jan 31, for the 4th International Chinese Costume Festival, at the Hong Kong Cultural Centre.
Contact the writer at grace@chinadailyhk.com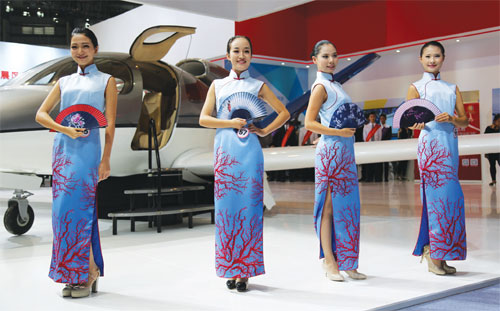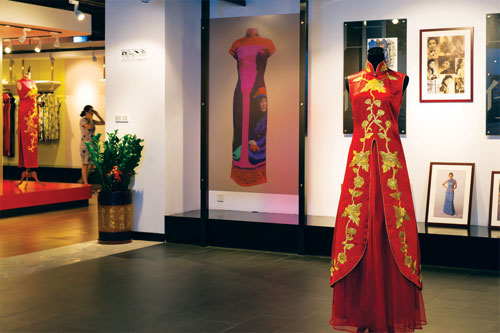 Tang Guangyan's works feature stereoscopic embroidery of a peony, a symbol of good fortune in Chinese culture, as well as Chinese ink painting. Provided to China Daily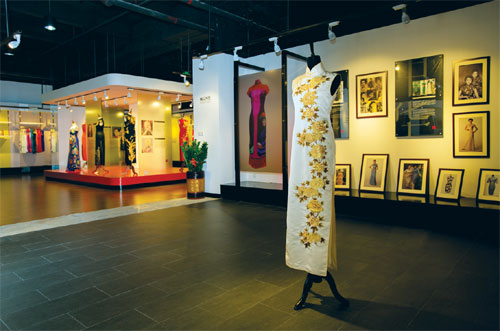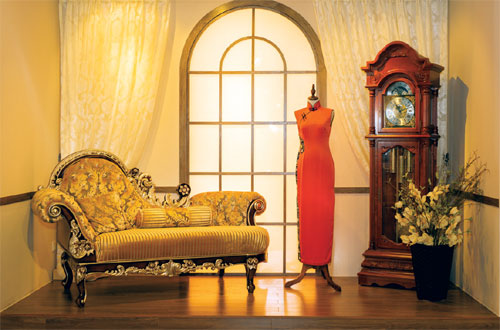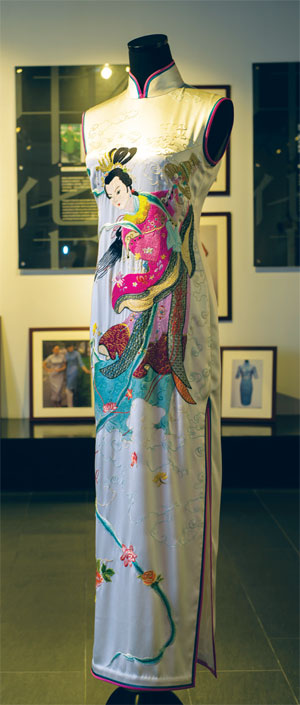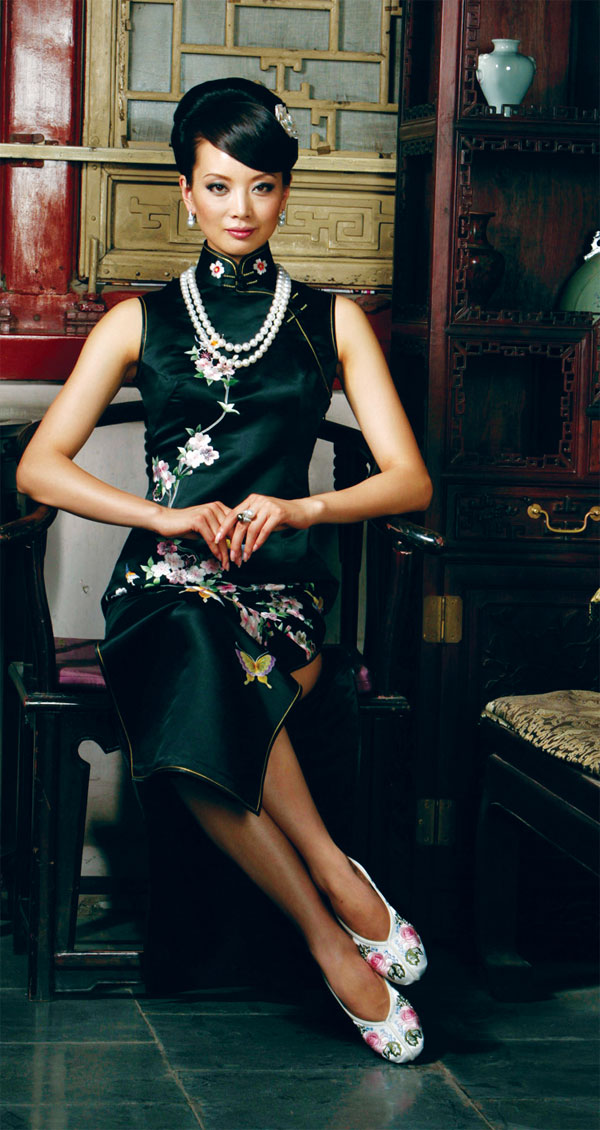 (HK Edition 01/29/2015 page7)