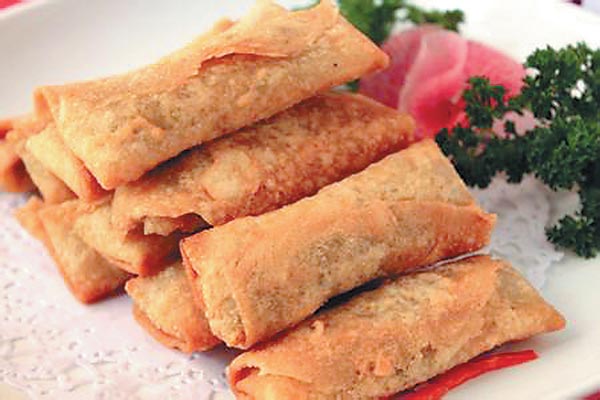 Chinese Spring Rolls 春卷
It is a time-honored Chinese snack made using a cylinder-shaped thin dough sheet and deep-fried in oil. Spring rolls have different variations in terms of the fillings, wrappers, and the cooking style in East and Southeast Asian cuisines. In Chinese cuisine, spring rolls are usually eaten during Spring Festival, hence the name. The types of meat in the fillings also vary, with pork being a popular choice.
HOW TO MAKE IT
Here is one preparation method:
For the sauce: mix the soy sauce, oyster sauce, chicken broth, sesame oil and sugar in a bowl. Set aside.
To cook the fillings: Add two tablespoons of oil to a preheated wok over medium heat. When the oil is hot, add the pork strips and stir-fry for one minute. Then add the vegetables and stir-fry for another minute. Add the prepared sauce in the middle, and then mix it with the pork and vegetables. Remove from the wok and allow the fillings to cool.
Wrapping: With one of the points of the wrapper facing you, spoon a small amount of filling and place it near the center. Fold that point of the corner over the filling and then tuck the point under the filling. Fold the side corners over, forming an envelope shape. Roll it up toward the remaining corner, moisten the last point and press firmly to seal.
Deep-fry the spring rolls in a wide wok until they are golden brown. Remove with a slotted spoon, and drain them on paper towels or a rack.