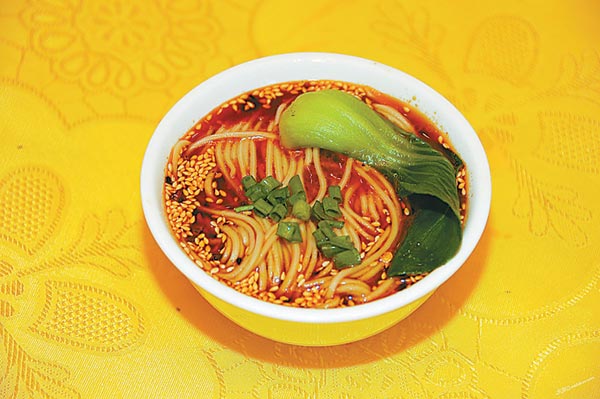 Dandan noodles 担担面
Dandan noodles is a Sichuan-style dish. It is called dandan because in the past street vendors in Sichuan carried a pole (dandan in Chinese) over their shoulders, with the noodles in a basket tied to one end and the accompanying sauce tied to the other.
Dandan combines fresh noodles with minced pork, peanuts, preserved vegetables, sliced scallions, in spicy sauce with Sichuan chili oil and pepper.
Once traditionally sold by street vendors from Sichuan province, dandan noodles are now a common delicacy nationwide. People eat it at all times of the day.
HOW TO MAKE IT
There are many different ways of preparing dandan noodles. Some are less soupy than the original Sichuan style. An easy recipe for dandan noodles is to prepare a good spicy sauce. Then you can combine it with different types of noodles, say, dried pasta noodles or Chinese noodles.
A simple guide to prepare the sauce: mix the chicken stock or water, soy sauce, sesame paste, black rice vinegar, chili oil, sesame oil, sugar and Sichuan pepper.