Liu Haiying, general manger of the CNCC, said the center is expected to hold 142 banquets and serve about 73,000 people during the event.
Here are some of the can't-miss Chinese dishes: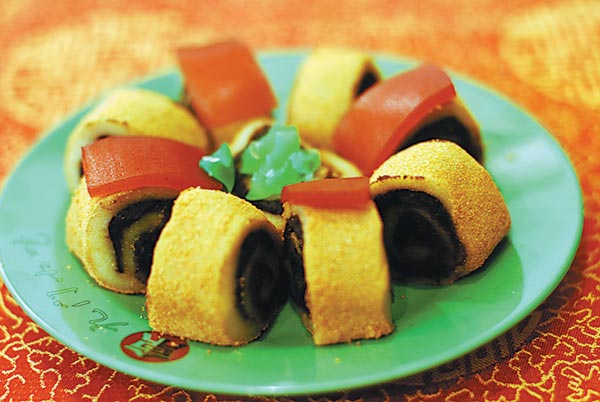 Lvdagunr (Glutinous Rice Rolls with Sweet Bean Flour) 驴打滚
Lvdagunr, or Glutinous Rice Rolls with Sweet Bean Flour, is a typical dessert of Old Beijing. The snack originated from the Manchu, and was said to be the favorite dessert in the Forbidden City. Lvdagunr dates back hundreds of years, but remains as popular today. It is made of glutinous rice, with fillings of sweet red bean paste.
The snack's name in Chinese, Lvdagunr, literally means "donkey rolling over". The rice cake is rolled in soybean flour, so the process looks like a donkey rolling on the ground and kicking up a cloud of dust.
But don't let the dust image ruin your appetite. Take the chance to try this traditional delicacy from the old hutong of Beijing. The snack offers your taste buds the fragrance of beans, all the way to your throat. The texture is also soft. It's sweet, glutinous, but not too sticky. It takes around an hour to make the desert.
HOW TO MAKE IT
Ingredients: glutinous rice flour, 300g; soybean flour, 100g; some red bean paste
Mix glutinous rice flour with water, and make it into a dough. Then put the dough on a plate coated with sesame oil, and steam it for about 20 minutes.
Stir fry the soybean flour with a slow fire until it becomes golden brown.
After that, sprinkle the soybean flour on the kitchen board; then lay the steamed glutinous dough on the bean flour, and roll the dough out very thin.
Put another layer of red bean paste stuffing on the top evenly; some black sugar can be also added on the top according to your preference.
Roll up the whole thing and cut it into smaller pieces, about 100g for one piece. Finally, dip each piece into soybean flour.