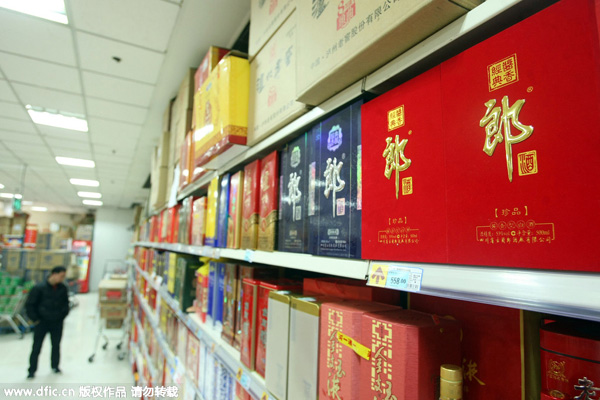 Chinese liquor on display at a supermarket, in Shanghai, Feb 25, 2014. [Photo/IC]
Man downs bottle of baijiu to quench thirst
A man in Hubei province who decided that water just wasn't worth his money decided to relieve his thirst by chugging down a bottle of strong Chinese liquor instead, causing him to pass out on the side of a road, gmw.cn reported.
On Sunday afternoon, the 65-year-old pig farmer, surnamed Chen, set off to catch a bus to visit his family and decided to walk the six-kilometer stretch to the nearest station.
About half an hour into his trek under the scorching midday sun, Chen stopped to buy a bottle of water. He managed to find a small roadside shop but thought that the water and other drinks there were too expensive, so he opted instead for a decently-priced bottle of baijiu.
Chen felt good after the first few sips, but as he continued to gulp down the liquor, he started feeling weak.
He was found lying on the ground at 9:00 pm by a passerby who then called the cops.
Next time someone tells you they are a Qing Dynasty princess, think twice before you lend them money - find out more in our next story.