In today's trending, wild panda raids honey farm, man downs baijiu to quench thirst, "Qing dynasty princess" swindles millions, and 3D printed mooncakes.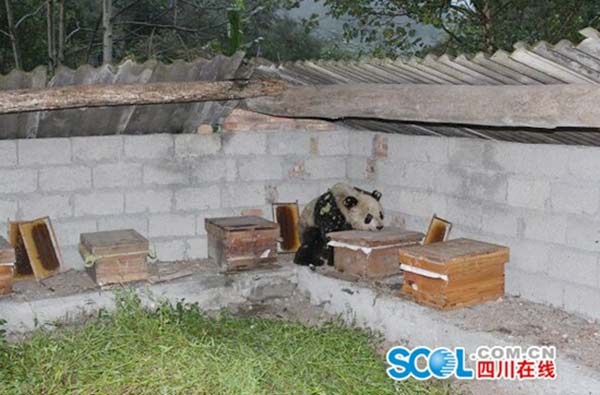 A panda eats honey from a box at Yongfu village, Ya'an city, Southwest China's Sichuan province, Sept 8, 2015. [Photo/scol.com.cn]
Greedy panda eats ten boxes of honey
A giant panda has been caught red-handed fishing out honey from wooden boxes in the backyard of a bee farm at Yongfu village in Southwest China's Sichuan province on Tuesday, local news portal scol.com.cn reported.
The adult panda seemed to enjoy the honey so much that it even swallowed bees along with the honey, a witness recalled. It finally left after opening ten boxes of honey.
The village, which is surrounded by well-preserved forests, is often visited by wild pandas, vice village chief Wu Ping said.
In our next story, man downs an entire bottle of baijiu to quench his thirst.