In today's trending, college students spread quilts to save suicidal girl, a railway track picnic, historic animal head fountain replica pops up, and a high school student with a heart of gold.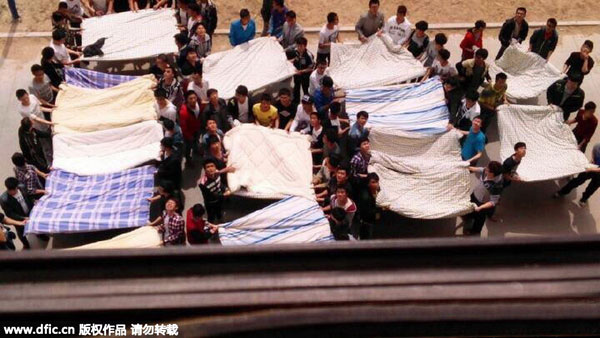 Male students at Beifang University of Nationalities spread quits hoping to save a female student threatening to fall. [Photo/IC]
Quilts of love
When a female student attempted to jump to her death from the top of a 13-storey building, dozens of male students quickly moved the bikes in front of the building, and spread quilts under her window waiting to catch her in case she fell, Yinchuan News reported.
The incident occurred at Beifang University of Nationalities. Students spread about 15 quilts at the site. Later, firefighters arrived on the scene with a rescue cushion.
The female student was pulled back to safety by a teacher.