In today's trending, colorful tree houses go viral, farmer invents kidney stone removing machine, man pole-dances in Chengdu subway, currency collector has 150 countries' banknotes, and eighty-year-olds find love and "lightning" marriage.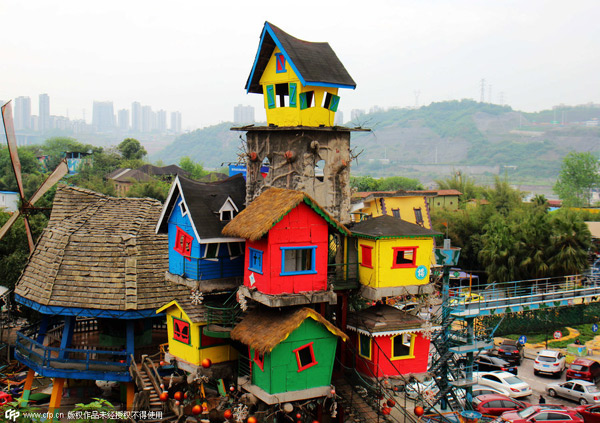 A Chongqing tree house went viral online because of its unique design. [Photo/CFP]
Chongqing's "fairy-tale" tree houses
These might be China's most unique and colorful tree houses — nine rooms, built in three layers around a tree in Southwest China's Chongqing. The highest room is 12 meters above the ground.
Traditionally, ethnic minorities in Sichuan and Chongqing build multi-storey wooden houses to fend off beasts and avoid the damp. These ones, while conforming to the traditional architecture for tree houses, use unusually bright and striking colors.
Sina Weibo user KOAN_REMOVE said the amazing structure is like something "that only exists in fairy tales".
In our next story, farmer invents a kidney stone removing bed to cure his wife.