In today's trending, a giant panda makes an unexpected visit, a passenger gets to ride with the crew in the cockpit of an airliner, a bride's answer to the call of nature leaves her stranded and a supermarket takes measures against wine shoplifters.
Wandering panda visits Sichuan township
We usually see pandas at zoos or nature reserves, but what would you do if a panda came to your neighborhood?
A wild panda, about two years old, made an unexpected visit to Yingxiu township, Wenchuan county of Southwest China's Sichuan province at around 2 am on Thursday, also the day of China's traditional Lantern Festival, West China Metropolis Daily reported.
The panda, captured by CCTV cameras at a scenic spot, wandered on a street and tried to break into the spot by climbing over its gate. It retraced its steps by walking on a zebra crossing, after it failed to get into the spot.
The panda seemed to be searching for food as it snowed on the hill, said Shi Xiaogang, the head of the Wolong National Nature Reserve, a famous panda center, which is only nine kilometers away from Yingxiu township as the crow flies.
The panda's visit excited Chinese netizens. A micro blogger, named Sally_Yuanzi, amused others by saying, "It probably wants to eat rice dumplings (a Lantern Festival specialty)."
Another netizen, under the name Evey_May, said, "It is a good panda to obey the traffic rules, which shames human traffic rules offenders."
It was the first time that a wild panda was discovered in the residential area of Yingxiu township.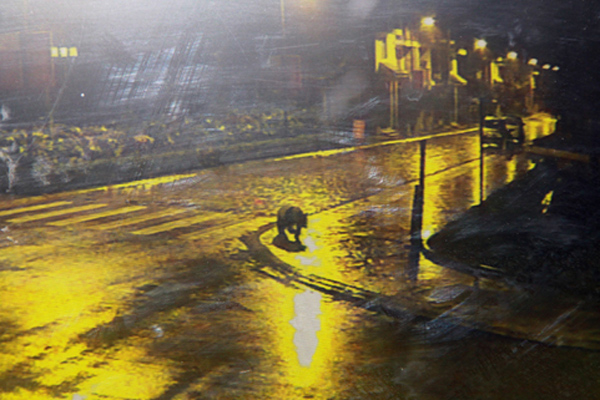 A still image of the panda crossing the road.
Next up: a passenger gets to sit in the cockpit of an airliner during the Spring Festival travel rush.