In today's trending, a tiger plunges to its death from a roof, a couple risks oncoming traffic to pick up a pig, employees enjoy a rooftop farm, a religious pig faces its doom and villagers gather for a dogfight in Shanxi.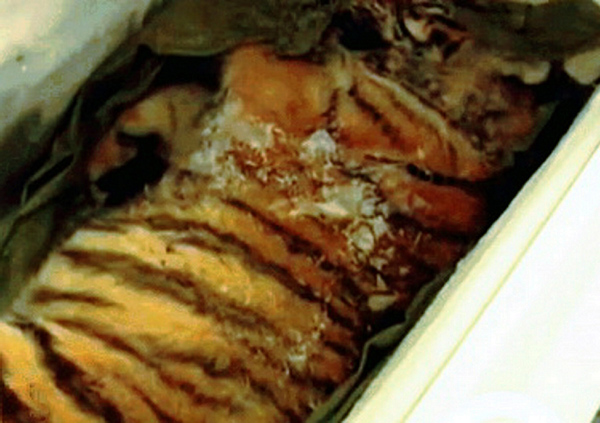 The dead tiger cub was put in a freezer. [Photo/IC]
Tiger cub spooked by fireworks jumps to death in E China
A tiger cub was found dead in a parking lot in Pingdu, Shandong province, after falling off a building because it was frightened by firecrackers on Feb 18, the eve of the Chinese Lunar New Year.
The seven-month-old cub struggled free of its chains and escaped from its cage, jumping off the Guwu Building in Pingdu city, Shandong province, according to the local government.
The tiger was raised illegally by a man surnamed Yang, the Peninsula City News reported Thursday. He signed a contract with a scenic spot in July 2014 to raise two Siberian tiger cubs, without government approval. Siberian tigers are under first-grade state protection in China.
Yang said he kept the tiger cubs for his friend, who was running a scenic spot where they live. However, the scenic spot ran into financial difficulties and he agreed to raise the tigers temporarily. "The roof was the only suitable place I could find to keep them. I welded them an iron cage that was three meters tall," he said.
The other tiger will be confiscated and raised by state-sanctioned institutes, according to the newspaper. Yang faces administrative punishment, the local forestry department said.
Related story: Firecrackers behind death of tiger cub
For another unusual use of a rooftop, read our next story, about a farm in the air.