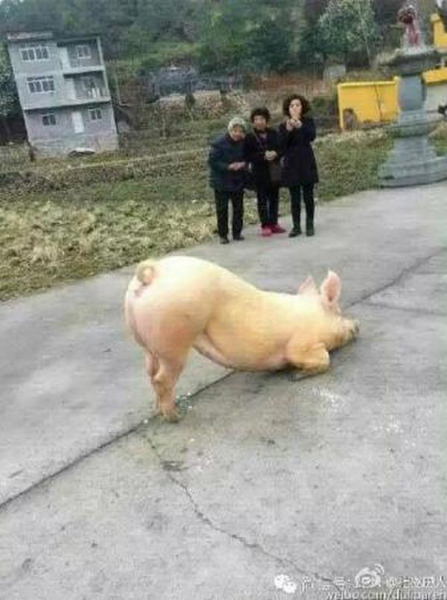 People were confused by the action of this pig in Wenzhou on Tuesday. [Photo from Weibo]
Pig "prays" to Buddha outside temple
Sometimes, even animals need a little forgiveness. A large pig groveled in front of a temple in Wenzhou, Zhejiang province when the temple held a final day for confessions, raising the eyebrows of Internet users, reported ifeng.com on Wednesday.
Many people were surprised and believed the pig was praying for protection from Buddha. The pig groveled for a quite long time even while passersby took photos of it.
A monk came out of the temple and chanted sutras for the pig and finally it moved away.
But one Internet user pointed out that there's no mystery to the pig's action, saying it was just seeking food.
What happens when coins "rain" down from heaven? It's more painful than you'd expect, according to our next story.