In today's trending, sealing New Year with soy, radar goes underground, running on ice with pig, girl sick of blind dates, husbands rebel against wives.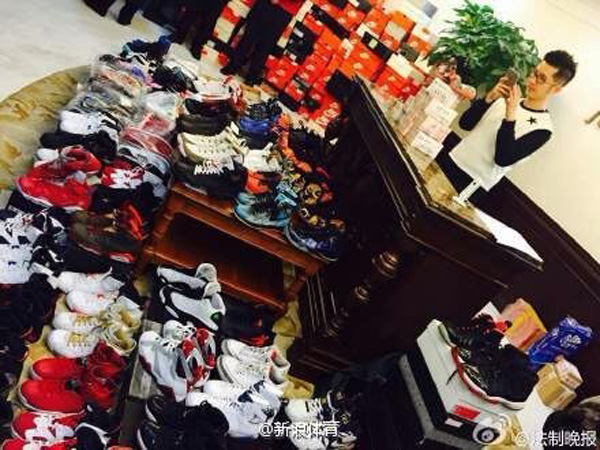 A member of staff at the pawn shop photographs sneakers Mick pawned in Beijing on Sunday.  [Photo/Sina Weibo]
Shoes help fan get foot on property ladder
Even the smallest apartment in Beijing can cost a fortune, but one potential property owner has come up with a novel way to clinch a deal, using 283 pairs of Jordan Nike sneakers, Legal Evening News reported.
Mick (not his real name) pawned his precious collection, acquired over a 20-year period, for 1 million yuan ($0.15 million) as he wants to make a down payment on an apartment before getting married.
But the 30-year-old has vowed to redeem the shoes within two months as soon as he has raised the money.
Staff at the pawn shop said the sneakers were valued at 1.8 million yuan.
Mick began collecting Jordan shoes when he was 14. According to the NBA's official account on Sina Weibo, the Chinese version of Twitter, a pair of new Jordan sneakers can cost as much as 2,000 yuan ($319).

Next up: Soy souce marks Spring Festival