A jewelry heist in Hong Kong, a giant hanging pot of food, a young woman's sacrifice for her brother, all this and more in today's trending stories from China.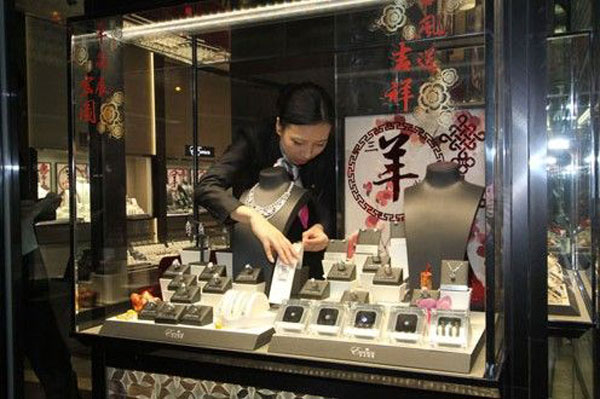 A staff member at a jewelry store in Hong Kong sets up a window display on Saturday. [Photo/Xinhua]
Girl, 12, steals diamond necklace in 120 seconds
A 12-year-old was suspected of stealing a diamond necklace worth 36 million yuan ($5.78 million) from a jewelry store in Hong Kong, reported xinhua.net on Saturday.
From the surveillance records, one male and three females including the 12-year-old could be seen entering the store, acting as a normal family. The "family" walked about the store looking at different jewelry.
While the adults looked at the jewelry, the girl slid inside the counter and appears to have taken the counter key, opened a counter and took out an expensive necklace. The whole process lasted about only 120 seconds.
The girl then reportedly took a taxi after leaving the store. The case is under investigation.