Thousands turn out to watch a traditional marriage ceremony, dog is more than just a best friend, hippo is twice unlucky, thief lands in trouble, brazen life of suspects.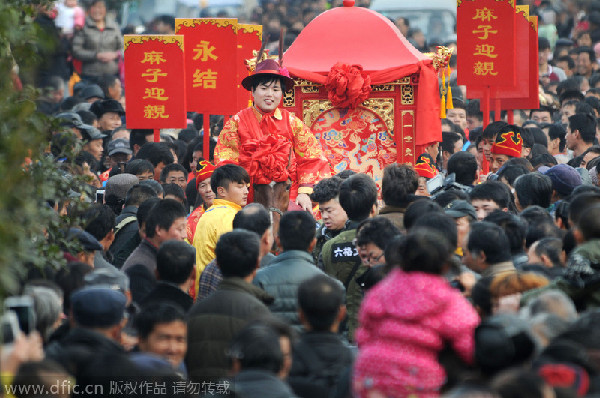 The groom, sitting on a horse, leads his bride in the bridal sedan among the throng of onlookers. [Photo/IC]
Traditional wedding brings in 30,000 lookers

Suona horns and iron drums resounding, the groom dressed all in red and riding on a horse. The scene from a traditional Chinese wedding in Lanxi city of Zhejiang province on Saturday attracted 30,000 onlookers and nearly paralyzed the traffic.
The marriage took place in a rural family, and the newlyweds went through every vintage wedding procedures, including the bride sitting in the bridal sedan and worshipping Heaven and Earth, a ritual marking their tying of the knot. The event was such an eye-catcher that police cars had to be deployed to get the crowd moving.

Read our next story to see how thoughtful and helpful a dog can be.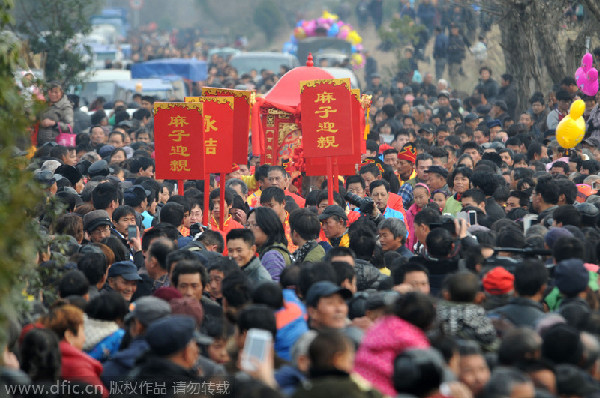 More than 30,000 turned up to watch the traditional wedding ceremony in Lanxi city. [Photo/IC]