In today's trending news, style over care costs woman a heavy price, 73-year-old in quest for knowledge, man goes too far to win back love, and boss splurges cash on employees.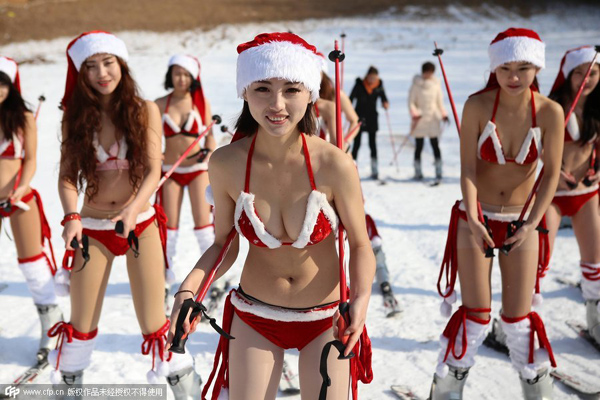 Beauties dressed in Santa-style underwear ski in this file photo. [Photo/CFP]
Cost of romance
The story of a woman who woke up with her face paralyzed could serve as a warning to those who prefer impressing others over taking care of themselves, especially during the chilly winter weather.
A 22-year-old who was determined to impress Mr Right on a Christmas Eve date wore a thin coat and skirt in minus 4 degrees Celcius temperature in Wuhai, Hubei province. But the move proved costly. When she woke up the next morning, she was unable to feel her face and was drooling. What's worse was that she could not even utter a single word.
See how a 73-year-old shows it's never too late to learn in our next story.