In today's trending news, a beautiful cloud brings the phoenix to Beijing skies, BMWs are sold ridiculously cheaply online, luxury cars used to sell apples, Christmas Eve apples exchanged for gold bars, and tollbooth workers don gas masks to work.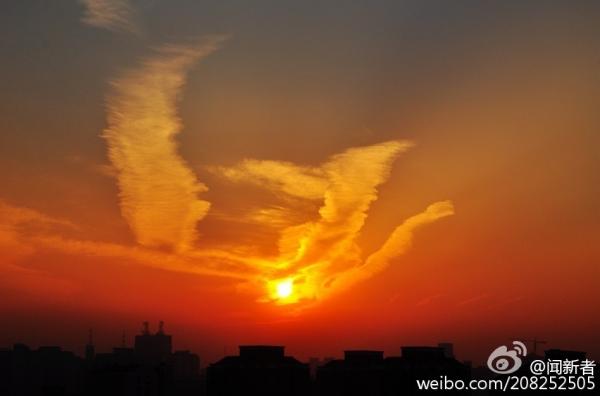 A 'red phoenix' burns in the sky of Beijing on Tuesday. [Photo/Sina Weibo]
'Red phoenix' shines in Beijing sky
An auspicious sign was spotted in Beijing's skies Tuesday. A cloud in the shape of a phoenix was captured by many Beijing residents at sunset. The stunning beauty of the flaming cloud wowed many as the phoenix is a mythological bird in Chinese folklore that reigns over all other birds. In ancient China, the "King of Birds" symbolized the empress when paired with a dragon, which represented the emperor.
But not everybody appreciated the beautiful sight. One netizen said, "It looked to me like a roast chicken!"
Next up: some eagle-eyed Internet users nabbed BMWs for a tenth of their usual price.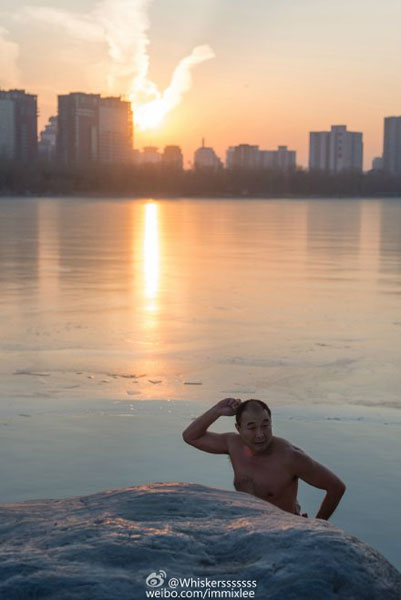 A man bathes in the water against the backdrop of the 'red phoenix' shining in the sky. [Photo/Sina Weibo]