PLA's conscription ads win over Internet users, virus found in Android smartphones, Beijing to get fresh coat of paint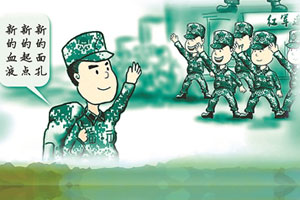 Army conscription ads win praise
Chinese People's Liberation Army's conscription ads in some regions, including Beijing and Yunnan province, has won acclaim from Internet users for using anime to improve the army's stern and rigid image.
Innovation is needed to boost conscription as college students have increasingly become the main target of conscription, said Shi Haifeng from Beijing's conscription office, Beijing Youth Daily reported.
In an attempt to attract young people, the Chinese Defense Ministry earlier posted on its website a music video featuring several groups of male and female soldiers dancing to Little Apple, a song produced by Chinese pop duo the Chopstick Brothers that has been popular with young people and those who like dancing in public squares.
Related:
PLA marches to a new beat to lure recruits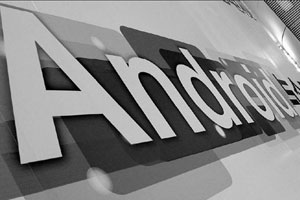 Virus found in Android phones
A message containing a suspicious link (http://cdn.yyupload.com/down/4279193/XXshenqi.apk) has been confirmed unsafe as it automatically forwards to the owner's contacts once clicked, Beijing Youth Daily reported on Sunday.
After the phone user clicks the link, software named "XXshenqi" is installed in the smartphone and start sending the same messages to the contacts. The link can only be opened in Android phones. It has reportedly spread to many regions in the country.
Related:
Android security holes vex mobile users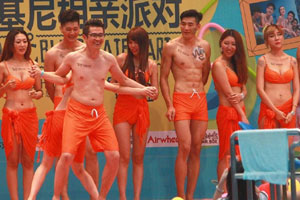 Blind date where participants wear bikinis, shorts
A blind date event where participants wore only bikinis and shorts was held at the Water Cube on the Chinese Valentine's Day, also called "Qixi", on Saturday, Beijing Youth Daily reported.
More than 200 singles took part in the event, with most of them around 22 to 40 years old. To help the participants feel less embarrassed, several games were organized at the event.
Related: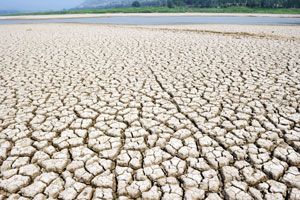 4m hectares of crops hit by drought in China
About 3.9 million hectares of crops in 12 provincial regions of China were hit by drought this summer, with more than one fourth of the areas suffering severe drought, according to the Ministry of Agriculture's statistics.
The regions that suffered drought include Henan province in Central China, the country's second-biggest grain producer, Shaanxi province in Northwest China and Inner Mongolia autonomous region in North China, Beijing Times reported.
Many regions, including northern China, are expected to see continued or even drought situation getting worse in August, according to the weather forecast.
Related:

3,000 buildings in Beijing to get fresh coat of paint
To welcome the upcoming APEC summit, Beijing will repaint the exterior facade of 3,000 buildings across 245 streets, Beijing News reported on Sunday.
The repainting is the biggest work carried out by the capital since 2008. The project will be extended to the whole Beijing later.
Related:

Beijing faces polio threat
Although Beijing has not reported a single polio case in the past 29 years, the global metropolis still faces a threat of the disease, especially from overseas, according to the capital's center for disease control and prevention.
It said that authorities will continue to keep a close watch on the worldwide polio situation and intensify professional training for medical staff to prevent possible outbreak, Beijing News reported.
The disease has spread to many countries, including Pakistan and Afghanistan in Asia and Nigeria and Somalia in Africa, according to the World Health Organization.
Related:
A family's life ruined by polio