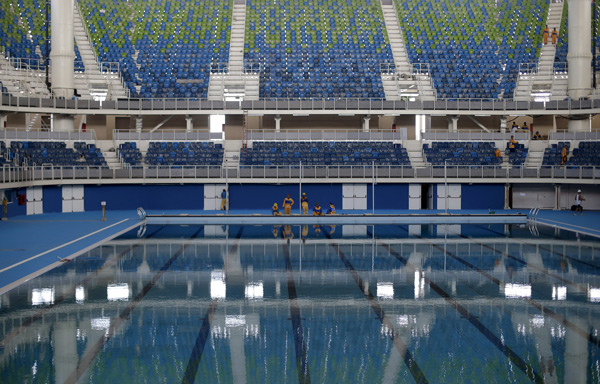 A view of the Olympic aquatic venue during a foreign media tour at the 2016 Rio Olympics park in Rio de Janeiro, Brazil, April 4, 2016. [Photo/Agencies]
RIO DE JANEIRO - Rio de Janeiro will stage 12 Olympic test events in the next two months as the city finalizes preparations for the first Olympic Games in South America.
April is the busiest month of the two-year test event calendar with eight competitions across 10 disciplines, organizers said on Wednesday.
Barra Olympic Park, the main venue cluster, will host seven events while another two locations will be tested for the first time, according to Rio2016.com.
The program begins with weightlifting at Carioca Arena from April 7-10 and will be followed by shooting on April 14-25.
The Olympic Aquatics stadium will be home to the swimming test event from April 15 to 20 while gymnastics will take place at Rio Olympic Arena on April 16-22.
Other events scheduled for April are as the following: Paralympic swimming (April 22-24), fencing (April 23-27), water polo (April 25-29) and Handball (April 29-May 1).
May 4-5 will mark the last pre-Games event at Barra Olympic Park when Future arena stages goalball.
The Olympic stadium will be home to the final three test events -- athletics (May 14-16), Paralympic athletics (May 18-21) and football (May 22).
The Rio Olympics will be held from Aug 5 to 21 and the Paralympics from Sept 7 to 18.