When Liu Yehui, a worker at China National Heavy Duty Truck Group, or Sinotruk, went to Bangladesh with his colleagues for the first time in 2011, he heard local people say that Chinese vehicles were of poor quality.
But today, the company has taken 70 percent of the engineering vehicles market in Bangladesh and Sinotruk is now regarded as a high-end brand.
Sinotruk's heavy-duty trucks have been sold to 96 countries and regions around the world. Last year, the company exported 32,600 vehicles, leading the industry for the 12th year. Among them, 11,688 vehicles were exported to 33 countries involved in the Belt and Road Initiative.
"The Belt and Road Initiative has become the best platform for Sinotruk's globalization process," said the company's chairman Ma Chunji. "Our products are China's national name card for its overseas infrastructure construction projects, and we are enjoying a growing reputation."
Founded in 1956 in Jinan, Shandong province, Sinotruk produced China's first ever heavy-duty truck. It has always paid attention to an internationalized development strategy, introducing overseas advanced technologies and experiences, and adding its own innovations.

It introduced a heavy-duty truck project from Steyr, Austria, in 1983, China's first company to import heavy-truck manufacturing technologies from abroad.
The company was listed on the Hong Kong Stock Exchange in 2007.
In 2009, it launched a strategic partnership with leading German commercial vehicle brand Man Group, introducing its D08, D20 and D26 engine technologies, its medium and heavy-duty truck axle technologies, and its corresponding vehicle technologies to China. This allowed Man to purchase 25 percent of Sinotruk (Hong Kong) for 560 million euros ($612 million).
"I can proudly say that the heavy-duty truck engines and other components produced by Sinotruk have world-class reliability and durability," said the company's general manager Cai Dong. "This is the reason why our products can enter the high-end markets in developed countries and regions."
Sinotruk has adopted a multiple-brand strategy in order to better participate in diverse market segments. It categorizes its products under four major sub-brands: Sitrak, Howo, Steyr and Hohan. These cover both high and low-end markets to meet the demands of different consumers.
Sinotruk now has more than 3,000 heavy-duty truck models in nine series, a big increase on 78 models it offered in 2001.
Currently, about 30 percent of the company's products are sold overseas. The company estimates that number will grow to 50 percent by 2020.
"Sinotruk has a long way to go in terms of globalization," Ma said. "We want to compete with world giants and become one of the top manufacturers."
Africa is one of the company's focus markets. Sales in that region account for more than 30 percent of Sintruk's total overseas sales. Its products are used in transportation, infrastructure construction and civil engineering.
The company signed a contract with a local industry leader in Nigeria in 2011 to export 1,500 vehicles. In 2014, it built an assembly factory in the country with a local partner to cover the western Africa market.
So far, 15 such assembly factories have been built in seven countries and regions along the Belt and Road, including Pakistan, Vietnam, Myanmar and Malaysia.
In Central Asia - an important region for the Belt and Road Initiative - Sinotruk has set up four representative offices and more than 10 sales centers, partnering with local vehicle retailers. They have so far sold 15,000 products.
"Our improving sales performance can be partially attributed to our improving product quality and partially thanks to the Belt and Road Initiative, which has brought more projects and investment opportunities," said Wang Li from Sinotruk's Pakistan office.
Lan Junjie, an executive from the company's overseas business sector, said that productivity cooperation, localized manufacturing, and capital and technology exportation have brought about win-win effects.
In many overseas markets, Sinotruk has employed local workers and sales personnel, and used trademarks and joint promotional campaigns with its partners to overcome challenges in terms of sales, legal frameworks and culture.
Service provision
Liu Wei, deputy general manager of Sinotruk, said that establishing a brand in the overseas markets relies not only on high-quality products, but also high-quality after-sales services.
Over the past decade, the company has transformed itself from just a truck manufacturer to an exporter and international service provider. It has set up six regional headquarters, covering Southeast Asia, the Middle East, southern Africa, northern Africa, Central Asia and South America.
The company has more than 400 service centers, 300 warehouses and 1,000 retail offices in its overseas sales network, covering more than 100 countries and regions worldwide, with nearly 1,000 sales and service personnel.
Sinotruk has translated its product instructions, maintenance manuals, component directories and training textbooks into the languages of its market countries.
The overseas markets have provided strong support to Sinotruk's sales performance, but Sinotruk Chairman Ma Chunji has an even more ambitious plan for the company's global development.
"We will further expand the market, especially in developed countries and regions, in the future," he said. "We will build Sinotruk into an internationalized business vehicle manufacturer with a strong research and development capacity, sustainable profitability and annual revenue exceeding 100 billion yuan ($14.49 billion) by the end of the 13th Five-Year Plan period (2016-20)."
zhangzhao@chinadaily.com.cn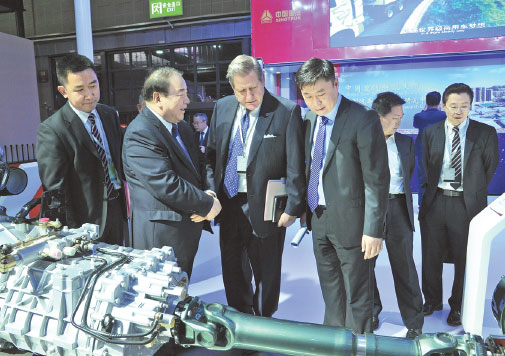 Axles displayed by Sinotruk at an auto show in Shanghai attract international buyers. Provided To China Daily
(China Daily 05/15/2017 page20)